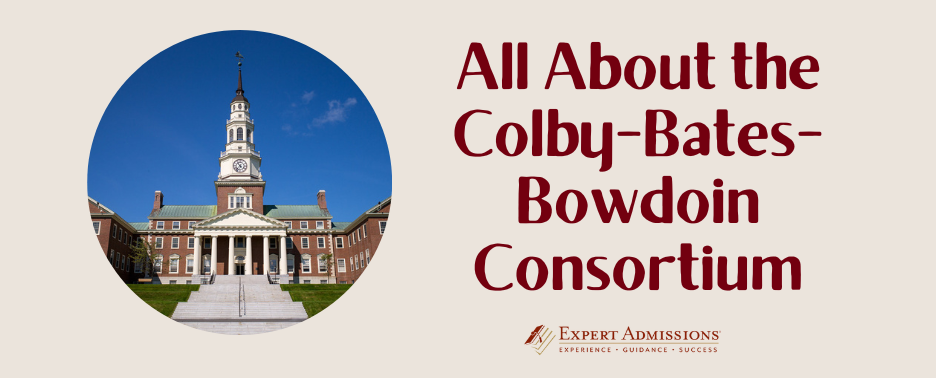 Affectionately known as the "Maine Big Three," Colby, Bates, and Bowdoin Colleges are a consortium of three private, liberal arts colleges that are among the most selective in the country. Organized geographically from north to south, the Colby-Bates-Bowdoin Consortium offers outstanding opportunities for students who seek a rigorous education with close proximity to the beauty of Maine's coast, lakes, and mountains. While the schools are not adjacent to each other–Colby College is located on a Waterville hilltop; Bates College is in small town Lewiston; and Bowdoin College is in coastal Brunswick–they share cross-registration, library access, study abroad programming, and intercollegiate competition. For football fans, this consortium–known as CBB–is home to a robust NCAA football rivalry among its three colleges. The colleges are also members of the New England Small College Athletic Conference (NESCAC), meaning lots of exciting sports, ranging from baseball to lacrosse, and many opportunities to interact with student-athletes across New England.
The three CBB schools provide excellent academic opportunities grounded in the liberal arts tradition. Here, we guide you through what distinguishes the colleges from one another.
Academics
As with other consortia, when a student is accepted to and enrolls in one of the CBB colleges, they become a member of the consortium community and are able to cross-register in other schools' classes for full credit. Enrollment in courses is on a "space available" basis and is limited to one class per semester; students from the home institution receive priority when registering.
Colby College, founded in 1813, offers a comprehensive liberal arts education and a world-class art museum, and is also the inventor of the month-long January term. Offering 45 majors and the 4-1-4 semester plan, Colby students must take three "Jan Plan" terms to graduate, but almost all students take four. The opportunity to take a deep dive into an academic or career experience is not to be missed. Study abroad attracts almost 70% of the student body. Popular majors at Colby include Biology, Economics, Environmental Studies, Government, and Computer Science. The cross-disciplinary Davis Institute for Artificial Intelligence offers significant opportunities for faculty student research. And nearly 200 classes across departments each year collaborate with Colby's Museum of Art.
Bates College, founded in 1855, emphasizes the traditions and value of a liberal arts education. Recognized for its inclusivity and progressive nature, Bates was New England's first coed college. All students take a writing-intensive first year seminar and nearly all students write a senior thesis. In addition to selecting a major, students also choose a second area or study in the form of a minor, second major, or general education concentration. After the conclusion of its two traditional semesters, Bates also offers a Short Term in late April and May, during which students take only one course or participate in internships or fieldwork. Study abroad is also very popular; with access to programs in more than 80 countries, about 60% of the junior class studies abroad.
Bowdoin College, the oldest of the three, dates back to 1794. Known for its rigorous liberal arts curriculum, Bowdoin requires a first-year writing seminar and courses in five interdisciplinary distribution areas. The sciences are particularly well regarded at Bowdoin with opportunities to concentrate in Arctic studies or even engage in Arctic archaeological research in Labrador, Canada; Government and Economics are the most popular majors. Additionally, Bowdoin's Digital Excellence Commitment means that every student receives a laptop and compatible technology, leveling the playing field when it comes to digital equity.
Campus and student life
Students at Colby College are required to live on campus all four years. Options range from traditional campus residence halls to a residential complex in downtown Waterville, where 200 juniors and seniors live and focus on civic engagement. Life at Colby begins with COOTS, a outdoor-based orientation program required of all first-year Colby students. Outdoor opportunities are always available, and the Colby Outing Club is the largest club on campus. With no Greek life, social life centers around sporting events, parties at the senior apartments, and frequent excursions to Portland, Freeport, and other popular Maine destinations.
Housing at Bates College is guaranteed for all four years and 91% of students live on campus. Social life centers around campus activities, including an annual Winter Carnival and the Puddle Jump on icy Lake Andrews. Outdoor outings across Maine and sporting events involving Bates's 31 Division III teams (and Division I Ski Team)  are popular among students. Bates is also home to the famed undergraduate debate organization, the Brooks Quimby Debate Council, which was founded in 1855.
First-year students at Bowdoin College live in historic residence halls, and after that apply to live in one of nine College Houses; 93% of students live on campus. Social life revolves around the College Houses, which host academic, cultural, and social events, and athletics, with Bowdoin ice hockey bringing out the most school spirit. With several ski resorts and the coast close to campus, students can also enjoy getting away from campus. Trips to Freeport, Portland, and Boston are also popular.