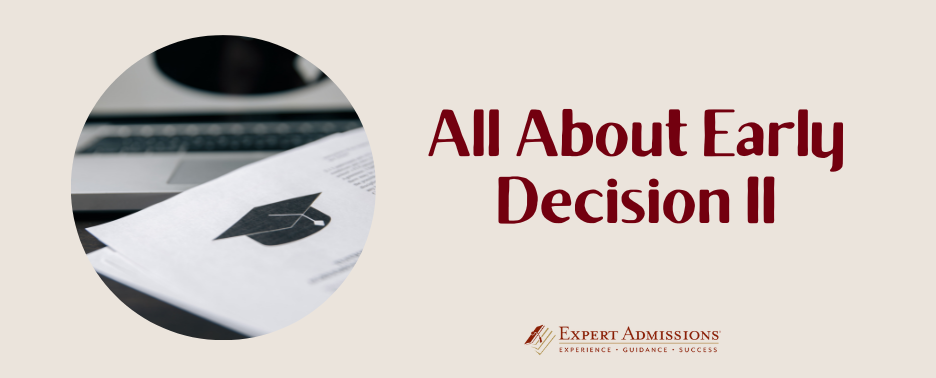 There are so many ways to apply to college:  Early Action,  Early Decision, Regular Decision, and the lesser-known Early Decision II. Allow us to explain the nuances! 
Early Decision II has many of the same characteristics as Early Decision. The biggest difference is that Early Decision II (ED2) happens later in your senior year than Early Decision (ED1). Students applying ED2 submit their applications around January 1st and usually receive their admissions decision by Valentine's Day (it's a quick turnaround…and hopefully a Happy Valentine!).
Just like Early Decision, ED2 is a binding agreement between you and the college you're applying to. That means that if you are admitted, you're committed to enroll at that institution. Upon learning of your ED2 admission, you must withdraw your applications from all of the other schools to which you applied. You will not have the chance to find out the decisions from those other schools or to compare financial aid packages. All of this means that you can apply to only one school under an Early Decision II plan.
When does it make sense to apply Early Decision II? 
Early Decision II is a good choice for students who have a clear #1 and #2 choice school. Let's say you submit an application under ED1 to your top-choice school, but unfortunately, you are not admitted. At that point, your #2 school may become your new #1 school. If the school offers ED2, it's a great way for you to show them how committed you are and that you really want to be a student on that campus– and you may get an admissions boost in the process. 
Important things to keep in mind with ED2:
While ED2 is a great way to show a school you are interested and committed to attending, it doesn't always carry the same weight as Early Decision. So, if you're really looking to increase your chances of being admitted, Early Decision typically offers more of a "boost" to students than ED2. Sometimes the ED2 pool of applicants is more competitive than other rounds of admission, so it may be a more selective round than ED1 or even Regular Decision in some instances. 
Thinking ED2 may be right for you? Here's a partial list of colleges with Early Decision II:
Case Western Reserve University
Rochester Institute of Technology
Washington University in St. Louis