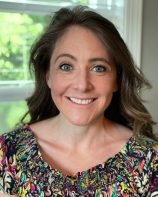 Sarah Lyons
Senior Admissions Counselor
Sarah Lyons is a former Associate Director of Admissions at the University of Chicago; she also formerly served as an Assistant Director of Admissions at Carnegie Mellon University. Ms. Lyons holds a BS in Television and Radio from The Roy H. Park School of Communications at Ithaca College and an MA in School Counseling from Montclair State University.
While working in the Admissions Office at the University of Chicago, Ms. Lyons was responsible for evaluating applications from the greater New York City metro area. She managed programming and communications for applicants of high interest to the University and was also in charge of legacy relations. Additionally, Ms. Lyons managed the Alumni Schools Committee, a corps of 4,000 University of Chicago alumni. At Carnegie Mellon, Ms. Lyons evaluated applications for three of the university's undergraduate schools: the Tepper School of Business, the School of Humanities, and the School of Architecture. She was also a member of the Targeted Recruitment Initiatives team.
Additionally, Ms. Lyons brings her experience from working on the other side of the desk, having worked as a guidance counselor for middle and high school students.