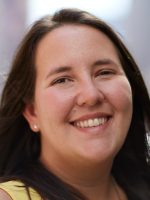 Trish Fairweather Cody
Senior Admissions Counselor
Trish Fairweather Cody is a former Senior Associate Director of Admissions at New York University; she also served as Assistant Director of Admission at Drew University. She holds a BA in Behavioral Science and an M.Litt, both from Drew University.
While at NYU, Ms. Cody oversaw the admission committee for the College of Arts and Science–NYU's largest school–and evaluated applicants for all NYU undergraduate programs, including the Stern School of Business, the Tisch School of the Arts, and the Liberal Studies Core Program. She also managed the University's alumni recruitment program and served on the Senior Admissions Leadership Team. At Drew, Ms. Cody led admission review for international applicants and for the University's honors program.
Additionally, Ms. Cody served as Associate Director of College Guidance at an independent school where she led students and their families through the college search and application process.