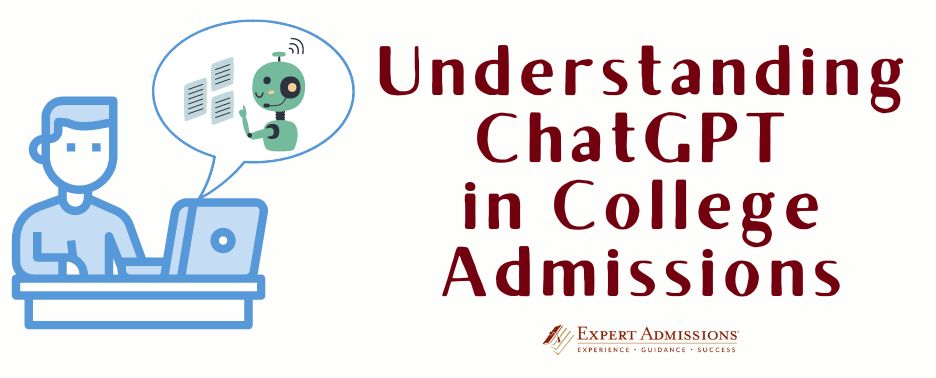 You've probably heard the name "ChatGPT" all around you in the last few months. You might have even used ChatGPT. For those unfamiliar, ChatGPT is a chatbot, developed by artificial intelligence laboratory OpenAI, which has been causing a lot of worldwide buzz for its ability to respond to prompts in what sounds like fairly natural language.
ChatGPT has been used as a writing tool across a wide array of industries. Therefore, it should come as no surprise that ChatGPT is also a big topic of conversation in the college admissions world.
ChatGPT in College Admissions Essays
Since ChatGPT can be used to generate essay topics, there's concern that admissions officers will start to see personal statements and supplemental essays written by AI. We know that picking a personal statement topic isn't easy, and it can be tempting to utilize any tool that might help you.
However, you should also understand the risks that come with using ChatGPT in writing your college essays or even generating topic sentences. The purpose of college admissions essays is to convey your personality and values so that admissions offices can determine whether you would be a good fit for their campus. If you use an AI-generated essay, the written work won't be authentic to who you are as a person.
Moreover, an essay written by ChatGPT would sound like a bot, hinting to admissions officers that you did not write the essay yourself. Almost any academic circumstance, very much including college admissions, has strict policies around plagiarism. If discovered, an AI-generated essay would be reason to deny a student admission. At the end of the day, an essay written by ChatGPT will most likely skip  important personal details and touches, reflect ideas that are not your own, and lack your writing style. You want colleges to get to know you through your essays, so ensure that your voice demonstrates who you are, rather than who an AI thinks you are.
You have plenty of resources around you—instead of turning to a bot, you could always ask your parents, older siblings, or teachers to help you brainstorm topics and read the final product to make sure it communicates who you are.
ChatGPT in the Admissions Office
As ChatGPT starts featuring more prominently in written student work, admissions officers will also start to find ways to detect whether an essay has been written by an AI or not. A Princeton graduate has created GPTZero, an app that uses two indicators (perplexity and burstiness) to determine whether an essay was generated by a bot. OpenAI itself has released an AI classifier model that helps detect AI-generated text.
On another note, a few colleges have started to use AI technology in reviewing applications. Institutions such as Maryville University will start using Sia, a tool by the company OneOrigin to review applicants' transcripts starting September 2023.
Georgia Tech is experimenting with AI's ability to make admissions decisions for a large online masters of science program. The AI system is currently at a 93% match with admissions advisers' decisions. The school has said that this tool could help the admissions process, but they would never solely rely on it for decisions.
Possible Impact of ChatGPT in the Future of College Admissions
How will artificial intelligence and ChatGPT impact the future of college admissions? Admissions offices will certainly be wary of voices in essays that could potentially sound like a bot. Although most students will probably still write their own essays, if the risk of AI-generated responses continues to prevail, we might see colleges place less emphasis on the essay sections of the applications.
With standardized test scores already optional at most colleges, if essays start losing credibility as well, colleges might rely more heavily on factors such as GPA, extracurricular activities, and interviews.
Since ChatGPT was fully launched in November 2022, the 2023-24 cycle will be the first in which students might start using it in their applications. As we enter application season, we will have to wait and see whether or not students start relying on the bot to generate their essays.
In the meantime, if you're debating whether or not to use it to write your own essays—don't use it. Colleges want to know you for you. Stay as true to yourself as possible!