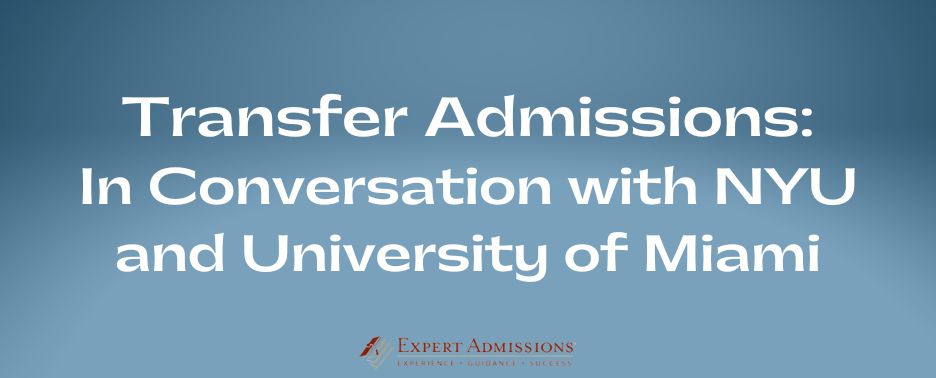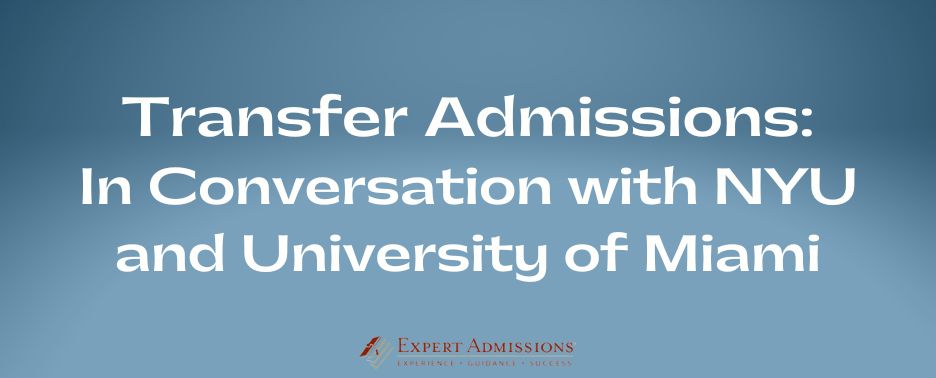 Expert Admissions hosted a webinar to discuss transfer admissions. Dr. Bari Norman moderated the discussion with Annie Weilson, Associate Director of Admissions at NYU, and Liz Whitby, Associate Director of Admissions at University of Miami. They discussed first-year and internal transfer processes, specialized programs, how credits transfer, resources for transfer students, and more. Keep reading for highlights from the conversation.
Transfer Application and Review Process
Both NYU and University of Miami accept transfer students for the spring and fall semesters, with deadlines of November 1 for spring admission and April 1 for fall admission. Both schools also release a few rounds of decisions for each applicant pool; however, when you apply does not determine when you will get your decision. There's no strategic advantage to getting an application in before the final deadline, so you should take your time and make it as strong as possible.
At NYU, you'll be applying directly to a particular program in one of ten undergraduate colleges, and only select programs will accept transfer applicants for the spring. Applications are reviewed by committee depending on the program you're applying to.
While NYU requires a high school transcript for almost all transfer applicants, the weight of your high school transcript will vary depending on when you're applying to transfer. If you're applying in your first year of college, high school grades will be considered pretty closely with your first semester college grades. If you've completed a year or two of college, your college grades will be weighed more heavily.
NYU is test-optional for 2023, and they have not made firm plans for their testing policy beyond that. But for students who have completed more than one year of college before applying to transfer, NYU is always test-optional.
At the University of Miami, the review process focuses on the applicant's performance in college but will similarly consider high school performance for those applying early in their college careers. For students who have completed at least 30 credits since graduating from high school, UM does not require any application materials from high school. Those applying with fewer than 30 credits will have to submit a high school transcript and either SAT/ACT scores or an additional supplemental essay.
Both NYU and UM accept the Common Application for transfer students. NYU has two essay questions — one that's borrowed from the application for first-year students and one about why you want to transfer. University of Miami requires an essay about why you want to transfer to UM specifically, and their only other essay is for those who are applying with fewer than 30 college credits.
How are Transfer Applicant Pools Different?
Transfer applicant pools differ from first-year applicant pools in significant ways. While first-year and transfer students have similar academic profiles across the board, the differences in each application pool means different odds for admission for each group.
At NYU, the space available for first-year students is fixed, but the spots for transfer students vary from semester to semester, depending on how much space is available in each program. There are usually a few hundred transfer students accepted across programs per year at NYU.
At UM, Admissions focuses on transfer applicants' college performance. Transfer admissions at UM vary by semester — far fewer transfer students are admitted in the spring than in the fall (around 50 compared to around 500).
Rolling decisions for transfer students also make a difference. While there's a single notification date for first-year students, transfer students are notified of their admission status over the course of several months. Neither NYU nor UM publish acceptance rates for transfer students because they vary so widely from one semester to the next.
Audition- and Portfolio-Based Programs
Some specialized programs have different requirements and deadlines for transfer applications.
At University of Miami, the Frost School of Music and the Musical Theatre program in the College of Arts and Sciences both require auditions and only admit transfer students for the fall semester. The deadlines for these programs are also earlier. UM is looking to fill specific roles depending on the needs of these programs. They therefore consider first-year and transfer applicants together for admission, and faculty are heavily involved in the admissions process, as they evaluate auditions.
At NYU, the Tisch School of the Arts and Steinhardt School of Culture, Education, and Human Development both have programs that require auditions or portfolios for admission. Most artistic programs at NYU only accept applications for the fall. Though all transfer applications to NYU officially have the same fall deadline, they suggest submitting applications for these programs at least a month early because of the additional steps involved in submitting an audition or portfolio. The review of these applications is a balance between artistic merit (evaluated by faculty) and academic performance (evaluated by admissions officers).
It's also worth noting that NYU's Stern School of Business only accepts transfer students for the fall and has very few spots available. There are very specific prerequisite courses required for transfer to Stern, and the applicant pool is highly competitive (with admit rates in the low single digits).
Internal Transfers
Many students wonder about transferring to a different program once they've already been admitted to a college or university. The feasibility of such a transfer varies considerably from one university to another. Even when such a transfer is possible, it's important to know that it may impact your time to graduation depending on the coursework requirements you'll need to make up for your new program.
At NYU, internal transfers are possible, but sometimes difficult. NYU requires an internal transfer application that demonstrates how you've been preparing yourself for your new choice of program. For internal transfers, only your NYU transcript will be reviewed, and you are required to spend one complete year in the program to which you were originally admitted before you can start a new program. Internal transfers to artistic programs and the Stern School of Business are highly competitive for internal transfers due to space limitations.
At the University of Miami, internal transfer is, for the most part, fairly seamless and not especially difficult. Performance-based programs will require an audition, and there is a prerequisite math requirement for the business school. However, there is no period that students must wait before transferring to a different program, and your advisor will help you fill out any necessary paperwork to make the transfer.
In addition to our discussion of the transfer application process, our guests took questions on letters of recommendation, applying to transfer after being previously denied admission, how credits transfer, and resources for admitted transfer students.