College Admissions Stats 2022.
Expert Admissions hosted a webinar to discuss the latest data in college admissions. Our hosts were Expert Admissions' co-founder and head counselor Bari Norman and senior admissions counselor Sarah Lyons. They discussed historical trends in admissions, the effects of test-optional policies, and what this means for a strategic application cycle in 2022-2023. Keep reading for highlights from the conversation.
LOOKING BACK
Declining Admit Rates
One of the most important and major changes we've seen is increased applications at larger public institutions and highly selective private institutions. Since 2012, declines in admit rates have caused a shift in perspective on the difficulty of the college process. Large public institutions that were once relatively straightforward and predictable in their admissions practices have become far less so. You can see these trends in the table below.
The bottom line is, there are fewer truly "safer" options for students who meet certain benchmarks in grades and test scores. It's more important than ever to be strategic about where and when you're applying, including how you utilize Early Decision (ED), Early Action (EA), and Regular Decision (RD) application plans.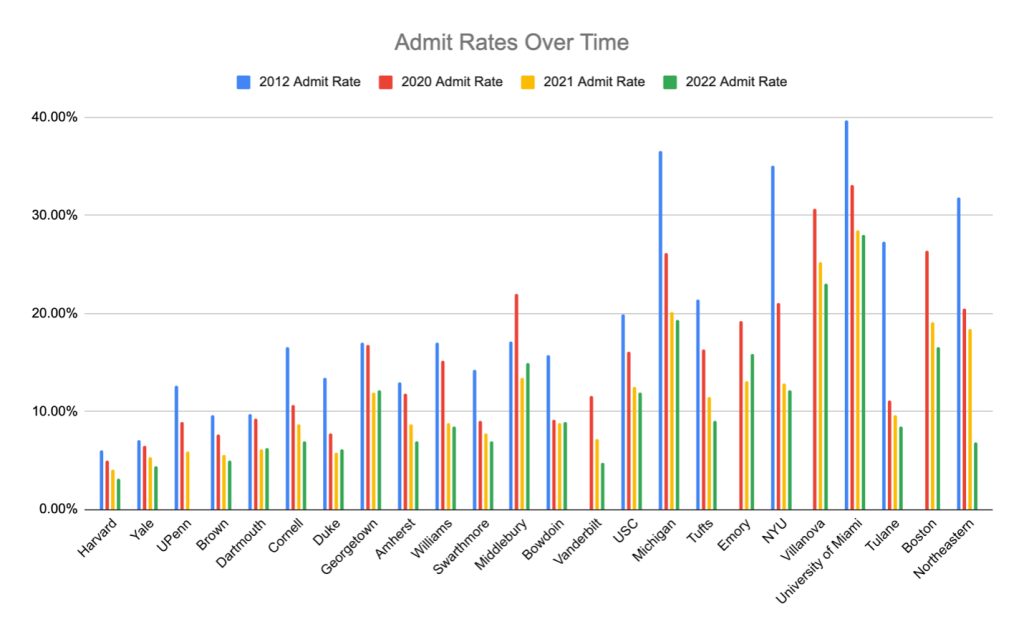 There are a number of reasons for the trends we're seeing in admissions, including:
Yield protection. Yield refers to the number of students who enroll relative to the number who are accepted. It's important to colleges to have both a high and predictable yield. We've seen increasingly that highly qualified students are being deferred or denied by schools that don't realistically believe they will attend. If schools get the sense that you're using them as a backup option, they're disincentivized to offer you a spot in their incoming class. With increased application numbers, students solidly in range are getting shut out, too.
Test-optional policies. As more schools have gone test-optional since the pandemic, students have been casting a wider net with their applications. With these increased application numbers, schools are able to be more selective in putting together their incoming class.
Overenrollment. The 2020-2021 application cycle saw overenrollement at a number of top-tier schools. Several have had to take fewer students in the past cycle as a result. It may be a few years before we see the admit rates bounce back from overenrollment, as these larger numbers of students all require resources, from space in dorms and classrooms to health services and career counseling.
Early Decision vs. Regular Decision
There's no denying that the admit rates in Early Decision and even Early Action rounds are higher than those in Regular Decision. And while it may look as though most schools that offer ED fill about half their class from the early rounds and half from RD, that's not the whole story. Take a look at the charts below for some visual data on ED and RD admissions.
For the most part, pre-approved athletes and special interest groups will show up in the early round, so while it may look like it's easier to get in, it's not quite as easy as some of the numbers may lead you to believe. And while ED2 can be a great option at schools that offer it, the ED2 applicant pool tends to be highly competitive. Many ED2 applicants will have been contenders at highly selective schools who didn't quite make the cut in the first round of Early Decision. Keep in mind that at schools that offer early admissions plans, it's most difficult to be admitted in Regular Decision. The applicant pool is significantly larger, and much of the incoming class has already been filled. Schools then have much more flexibility in RD to ensure that they're meeting their institutional needs and admitting a well-rounded class in RD.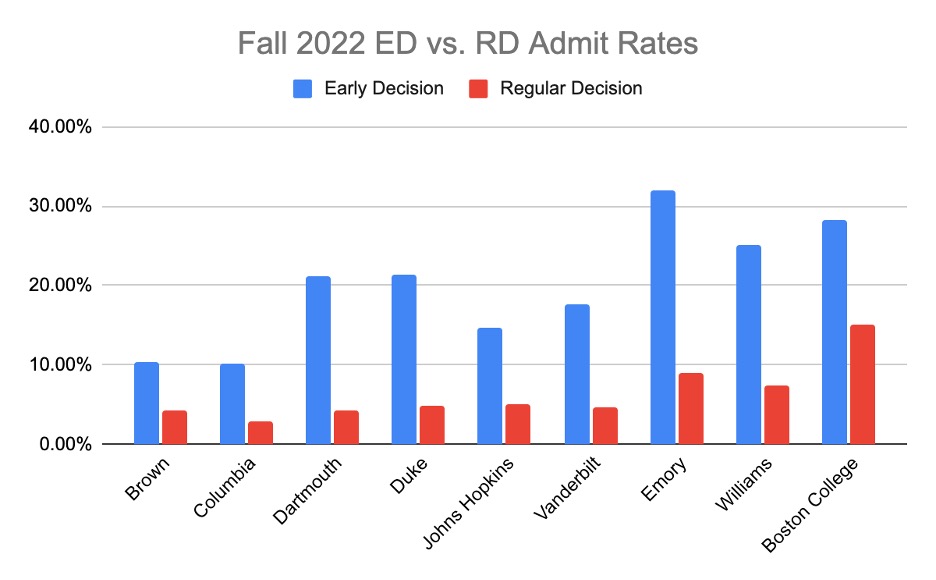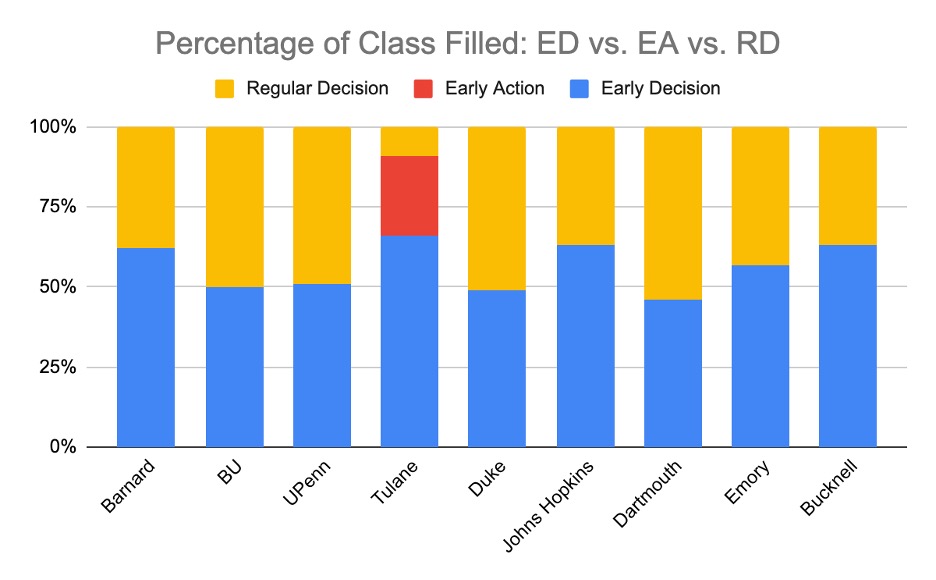 Standardized Testing
At this point post-pandemic, about 80% of colleges and universities are test-optional. However, from the data we've seen, there does seem to be an overall disadvantage to applying without test scores. Students who submit strong test scores are more likely to be admitted than those who do not submit scores at all.
One important shift since the adoption of test-optional policies has been the inflation of the mid-50% range of the test scores of admitted students. With added flexibility, students began submitting scores that were closer to the top of the 2019-2020 mid-50% range, driving that range ever higher. You can see this dramatic upward trend in these averages from just before and just after the start of the pandemic:

LOOKING AHEAD
If the pandemic has taught us anything, it's that the future is uncertain. But here are some things we know and some things we expect to see in the 2022-2023 application cycle:
With few exceptions, we expect test-optional policies to stay in place. Notably, MIT and the University of Georgia system have announced that they will once again require standardized test scores, and the Florida State system never stopped requiring them. We anticipate these will be exceptional cases.
Legacy has been having less of an impact on admissions for several years now, but it seems increasingly to be on the way out. Amherst, the University of California system, and Johns Hopkins have all done away with legacy admissions.
The University of Southern California has added an Early Action plan, and the University of Vermont has added Early Decision* to the upcoming admissions cycle.
*correction: the webinar stated that UVM had added Early Action rather than Early Decision
The University of Texas at Austin has joined the Common Application. We always expect to see increases in applications when a school joins the Common App, as it becomes much easier for students to apply.
The University of Pennsylvania is adding a third supplemental essay after having just two for many years. We will learn more about that as applications open in August.
The University of Illinois Urbana-Champaign, which has one of the top computer science programs in the country, has announced a change to that program. Existing UIUC students will no longer be able to transfer into the computer science program. The only entry point to the program will be out of high school at the time you apply as a first-year student.
The digital SAT will be available for those who are currently sophomores in the high school class of 2025.
While we've scratched the surface here, our counselors dug deep into the numbers this year. They examined the details of the admit rates at Boston College, Boston University, Northeastern, Tulane, and USC; discussed waitlist data for the 2021-2022 admissions cycle; and provided a shocking 20-year overview of admissions in the Ivy League. For all the details, watch the webinar at the top of the page.