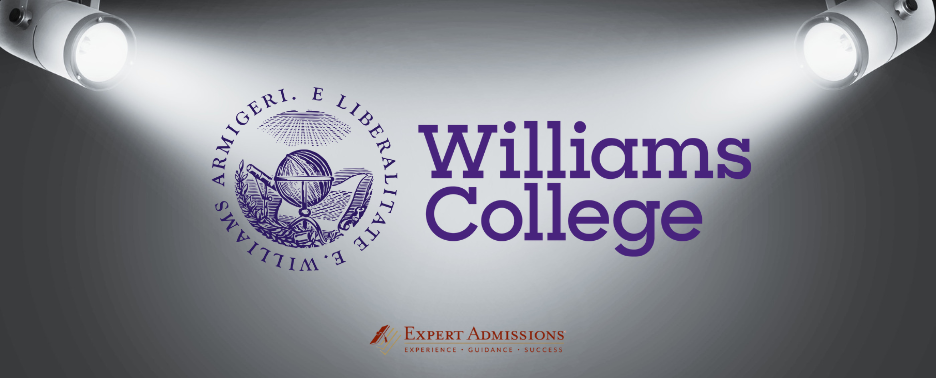 About Williams College
Location: Williamstown, MA
Undergraduate Population: 2,137
Most Popular Majors: Environmental Studies, Economics, Mathematics, Biology, Political Science, Studio Art, Art History
Demographics:
White 48.1%
Asian/Asian American 13.4%
Latinx 11%
Multiracial 7.7%
Black/African American 5%
Native American less than 1% 
History:
Williams College is named after Colonel Ephraim Williams, an officer in the Massachusetts military and a member of a prominent landowning family. In his will, Williams left the means for a free school to be established in the town of West Hoosac, Massachusetts, with the condition that the town change its name to Williamstown. The college was established, and on October 26, 1791, welcomed its first fifteen students.
Although Williams College did not have financial security until the end of the nineteenth century, it did have enough in its budget to adapt the small New England liberal arts college model. In 1815, Williams College president Zephaniah Swift Moore moved along with fifteen Williams College students to Amherst, MA and founded what is now Amherst College.
In 1962, the college trustees replaced fraternities with a residential house system. In 1970, Williams became coeducational, admitting its first group of women as degree candidates. In the fall of 1988, Williams introduced the tutorial-system, inspired by Oxford university.
Since the start of the 21st century, the college has taken on a number of construction projects. This includes the Unified Science Center in 2001, which combines the formerly separate lab spaces of the Physics, Chemistry, and Biology departments. The Center also houses the Schow Science Library. In 2003, Williams added its Center for Theatre and Dance. The Paresky Center was built in 2007 as the hub of campus life, offering classroom spaces as well as spaces to study, dine, relax, watch movies, hang out, and hold meetings and events.
Notable Williams College alumni include American composer and lyricist Stephen Sondheim, American poet, essayist, and playwright Claudia Rankine, news anchor
Erin Burnett, businessman and former chairman of AOL Steve Case, and singer-songwriter Wang Leehom.
Traditions:
Students get a spontaneous break from classes on a Friday each October to celebrate Mountain Day. What started as a day for a trek up the nearby Mt. Greylock in the early 1800s has now evolved into several festivities that include an all-campus picnic, hikes, a team adventure race, and an evening polar bear swim.
Trivia is a Williams tradition dating back to 1966. Once in January and once in May, all Williams students are invited to stay up late for a night of online trivia.
Each year on Commencement, a watch is dropped from the 80-foot spire of the college chapel. Students believe that if the watch breaks, the graduating class will be lucky in their post-college pursuits.
Noteworthy Features:
Williams students must complete distribution requirements in at least three courses in each of the school's three divisions: Languages and Arts, Social Studies, and Sciences and Mathematics.
Undergraduates at Williams are required to spend at least six semesters on campus, as well as participate in Winter Study every January, when they have the option to take a course, complete a research project, or travel abroad.
About 50% of Williams students sign up for courses taught in the format of an Oxford tutorial where two students and a faculty member meet weekly. The students alternate between who does independent work—such as an essay, lab report, or art piece—and who critiques it.
Admissions Profile
Average GPA: Not reported
Test Scores (mid-50% range): 1490-1550 SAT/ 34-35 ACT
Admit Rate: 9.8%
Test-optional? Yes
Offers Early Admissions? Yes–Early Decision I
Supplemental Essays 
Williams College does not have a supplemental essay.