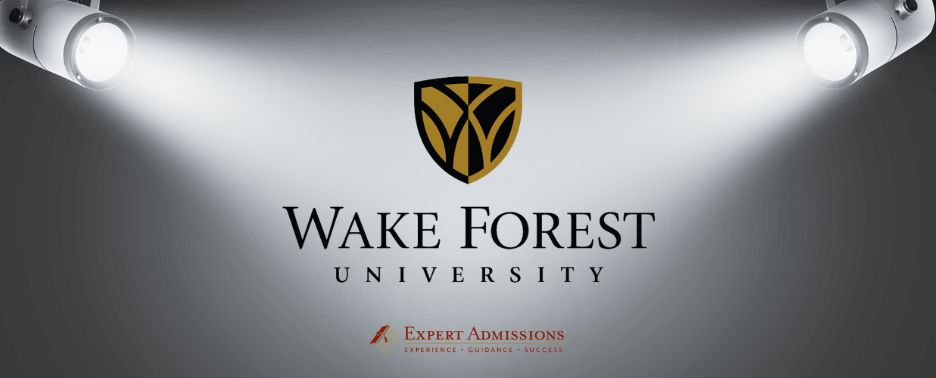 About Wake Forest University
Location: Winston-Salem, NC
Undergraduate Population: 5,447
Most Popular Majors: Finance, Communication, Economics, Psychology, Politics and International Affairs
Motto: Pro Humanitate ("For Humanity")
Demographics:
White 66.0%
Latinx 8.8%
Black/African American 6.2%
Multiracial 5.5%
Asian/Asian American 4.2%
Native American less than 1%
History:
Founded in 1834 as a school for both Baptist ministers and laypeople, Wake Forest University has come a long way from its humble beginnings to its current status as an R2 private research university. The college grew steadily in the 19th century, especially in the decades after the Civil War, incorporating its School of Law in 1894 and its School of Medicine in 1902. Dr. William L. Poteat, a biologist and proponent of progressive education, was elected president of the school in 1905, causing controversy with his support of teaching Darwin's theory of evolution; he eventually convinced the North Carolina Baptist State Convention to permit academic freedom at the college.
Women were first admitted to Wake Forest in 1942, as World War II caused a decline in male undergraduates. In 1956, the Wake Forest campus moved from its original location in Wake Forest, North Carolina to the Reynolda estate in Winston-Salem, a gift of Mary Reynolds Babcock (heiress to the R.J. Reynolds tobacco fortune). Wake Forest had the distinction of being the first major private university in the South to desegregate when it admitted Edward Reynolds, a Black student of history and a native of Ghana, in April of 1962. Throughout the rest of the century, the college added the Wake Forest University School of Business, The James R. Scales Fine Arts Center, and Division I intercollegiate athletics. Current Wake students can choose from 40 majors and 57 interdisciplinary minors.
Notable Wake Forest alumni include legendary NBA power forward Tim Duncan, pioneering activist and member of Congress Donna Edwards, renowned NBA point guard Muggsy Bogues, writer and political commentator Melissa Harris-Perry, and American golfer Arnold Palmer.
Traditions: 
Each spring, Wake Forest students test their dancing limits at Wake N' Shake, a 12-hour dance marathon. Marathon dancers raise funds for the Brian Piccolo Cancer Research Fund; since the tradition began in 2005, the event has raised over $3 million for cancer research.
On the first Sunday in December, Wake students gather in Wait Chapel for Lovefeast, a tradition of the Moravian Church dating back to the 18th century. The candlelit ceremony—featuring multiple choirs and scripture readings—is meant to encourage reverence and respect for humanity, and is the largest Moravian Lovefeast in North America.
Wake Forest pride is on full display during Homecoming weekend, which happens each October. Students and alumni gather on campus for a bonfire pep rally, Festival on the Quad, tailgate party, and—of course—the big Saturday afternoon home football game.
Noteworthy Features:
Wake Forest students with a passion for politics can live, study, and complete internships during the semester-long Wake Washington program in Washington, D.C.
75% of Wake undergraduates participate in study abroad. The college offers more than 400 programs in over 75 countries, ranging from a summer to a semester to a year.
The Office of Civic & Community Engagement (OCCE) at Wake Forest gives students the opportunity to put their academic studies into practice in the Winston-Salem community. Through OCCE, students can work with community organizations focused on issues like social justice, education, and economic empowerment.
Admissions Profile
Average GPA: not reported
Test Scores (mid-50% range): 1400-1500 SAT/31-34 ACT
Admit Rate: 21.4%
Test-optional? Yes
Offers Early Admissions? Yes–Early Decision I (on a rolling basis); and Early Decision II
Supplemental Essays
Wake Forest University's Optional Essay Prompts:
List five books you've read that have intrigued you.
When generating this list, look beyond the books you've read for school. Many students read the same books for their high school classes; if you want your response to this prompt to stand out from the rest, bring in favorite books you've found on your own. Whether it's a favorite manga, a nonfiction read you've devoured, a literary classic, or a new YA bestseller, make sure each book on your list is one that has genuinely intrigued you!
Tell us what piques your intellectual curiosity or has helped you understand the world's complexity. This can include a work you've read, a project you've completed for a class, and even co-curricular activities in which you have been involved (limit 150 words).
This question invites similar responses to the common "Extracurricular Activity" essay prompt—after all, "co-curricular activities" are one of the experiences you're invited to reflect on. But the core of this prompt are the "intellectual curiosity" and "understand the world's complexity" pieces. Start by deeply considering a meaningful experience that has opened your eyes to new insights about how the world works. Make sure to write about something that isn't covered elsewhere in your application (like in your personal statement).
Dr. Maya Angelou, renowned author, poet, civil-rights activist, and former Wake Forest University Reynolds Professor of American Studies, inspired others to celebrate their identities and to honor each person's dignity. Choose one of Dr. Angelou's powerful quotes. How does this quote relate to your lived experience or reflect how you plan to contribute to the Wake Forest community? (limit 300 words)
Look at both parts of the question at the end of this prompt: you'll see that it's asking you to reflect on your own experience (through one of Dr. Angelou's quotes) and to discuss what values, skills, and strengths you'll bring to the Wake community. How you approach this question will depend on which of Dr. Angelou's quotes you choose. Craft your response so that it addresses one of these parts of the question clearly and compellingly.
Give us your Top Ten List. (The choice of theme is yours.) (limit: 100 characters per line)
This prompt is a chance to really be yourself and let your creativity shine. Think of a group of "top ten" things that are unique to you. Top ten samurai movies? Top ten places you've skateboarded? Top ten sustainability tips? The choices really are limitless! Take special notice of the fact that there is a 100-character limit for each item on the list—that's more than you need to simply list a favorite vegetable or '90s band. Make sure you elaborate on each item on your list to contextualize them and show off your personality.
For more tips on common supplemental essay prompts, see our blog post here.