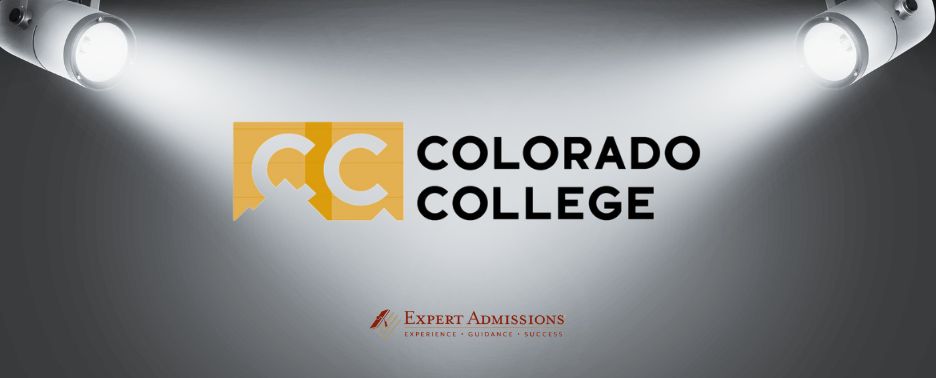 Location: Colorado Springs, Colorado
Undergraduate Population: 2,180
Most Popular Majors: Economics, Political Science, Sociology, Organismal Biology and Ecology, International Political Economy
Motto: Scientia et Disciplina ("Knowledge and Training")
Demographics:
White 66.8%
Latinx 11%
Multiracial 7%
Asian/ Asian American 4.6%
Black/African American 3%
Native American less than 1%
History: Colorado College, founded in 1874 at the base of Pikes Peak, was originally envisioned as a co-ed liberal arts college–much like Ohio's Oberlin College or Iowa's Cornell College. The college is located on land designated by engineer and Civil War veteran William Jackson Palmer, who also founded the town of Colorado Springs. Another founder, Presbyterian Reverend Thomas Nelson Haskell, affirmed the secular and coeducational vision for the college. Cutler Hall, a multi-purpose structure built in the Gothic style, was the school's first building, and was completed in 1880; when Colorado College's first class graduated in 1882, Cutler Hall contained the school's classrooms, offices, auditorium, and library. The campus saw great expansion between the 1880s and early 20th century, including recruiting top scholars from around the country to come teach in a Western frontier town. One of these scholars was Katharine Lee Bates, an English professor at Wellesley. Bates held a summer teaching position at Colorado College in 1893, and it was during this time that Bates wrote the lyrics to "America the Beautiful" while on a trip to the top of Pikes Peak. Today, Colorado College offers a wide range of majors and minors, NCAA Division I athletics, and a beautiful 90-acre campus–with Cutler Hall on the National Register of Historic Places.
Noteworthy Colorado College alumni include former Wyoming Congresswoman and UVA professor Liz Cheney, science and feminism scholar Donna Haraway, former World Bank president David Malpass, geophysicist and National Academy of Sciences president Marcia McNutt, and US Ambassador to Mexico Ken Salazar.
Traditions:
Colorado College's Campus Activities department hosts "Halloweek" each year (on the week of–you guessed it–Halloween). Festivities include costumed dance parties and rollerskating, scary film screenings, a hypnotist, and a pumpkin carving contest.
Every full moon, enthusiastic Colorado College students gather for the Full Moon Cruiser. They don wild outfits and ride their bikes by the light of the moon to a gathering spot on campus, then ride down into the town of Colorado Springs, howling and blasting music from boom boxes.
Faculty and staff at Colorado College host students in their homes (or at a local picnic spot) for informal dinners through the Breaking Bread program. The school reimburses Breaking Bread hosts; casual discussion of coursework often happens during meals!
Noteworthy Features:
Colorado College's Block Plan is a standout feature of the school's academic culture. Under this plan, students take eight classes during the academic year, but the courses are taken one at a time, in three-week long "blocks." This intensive plan allows students to immerse themselves in a single subject, making for a creative take on liberal arts education that's Colorado College's hallmark.
The Block Plan allows students to engage in courses held off-campus or at one of the school's satellite campuses, such as the Baca Grande campus in Colorado's San Luis Valley, where students can focus on Southwest studies. Other off-campus courses are held in locations all over the globe, during both the academic year and summer sessions.
Each incoming Colorado College student participates in the First Year Experience, or FYE. The program consists of a two-block sequence of courses, taken with the guidance of advisors and a student mentor. FYE is meant to help new students adjust to the curricula and fast pace of the block plan.
Admissions Profile
Average GPA: 3.85
Test Scores (mid-50% range): 1270-1460 SAT/ 29-33 ACT
Admit Rate: 16.3%
Test-optional? Yes
Offers Early Admissions? Yes–Early Action, Early Decision I, and Early Decision II
Supplemental Essay
Colorado College's Required Essay Prompt: In the following prompt, we are hoping to learn more about your discovery of and affinity for Colorado College. It's an opportunity to reflect on what the distinctive academic experience of the Block Plan could mean for you.
We advise you to take your time, do your research, and give us some specifics about how the college would impact you and how you would impact the college. It's a good idea to participate in an information session, browse our website, and carefully edit before submitting — after all, this is another opportunity for you to share your writing skills. Please see this short video for additional insight.
Why do you wish to attend Colorado College and how would the Block Plan serve your educational goals? (no more than 200 words)
This is an example of a common "why this college" essay prompt; you can read up on how to respond in our blog post here. Take note of how the college centers the Block Plan in the language of this essay prompt. If you're applying to Colorado College, do thorough research into how the Block Plan works, and approach this essay with a clear sense of how you would like to engage with this focused, intensive mode of education. Also, pay attention to the part of the prompt that asks you to talk about how the college would impact you, and how you would impact the college. Community engagement is big at Colorado College; don't just talk about what you'll get from the school, but how you plan to contribute. It's a lot to fit into 200 words!
Colorado College asks the following question for students applying to a major in fine arts or performing arts:
Do you intend to submit a portfolio so that your special talent in one or more of the arts will be considered as part of the admission process to Colorado College?
If this is you, find out the portfolio requirements for your particular area of interest.