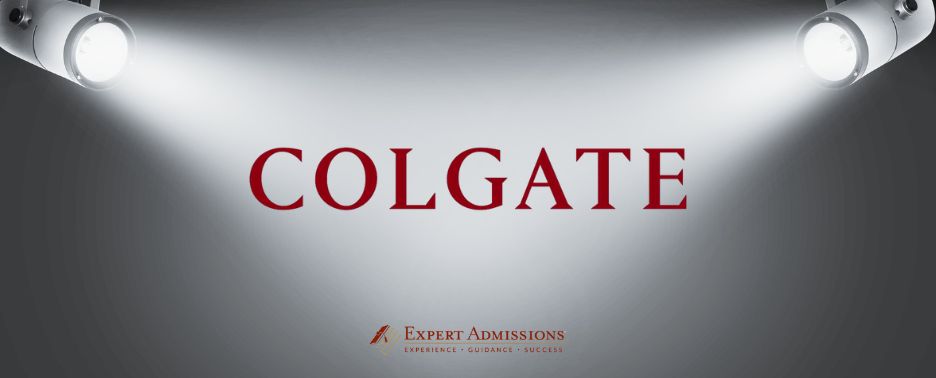 About Colgate University
Location: Hamilton, NY
Undergraduate Population: 3,164
Most Popular Majors: Economics, Political Science, Psychological Science, English, History
Motto: Deo ac Veritati ("For God and For Truth")
Demographics: 
White 65.5%
Latinx 9.2%
Asian/Asian American 5.4%
Multiracial 4.5%
Black/African American 4.4 %
Native American less than 1%
History: 
Lucky number 13 looms large in Colgate's history: the college was founded in 1817 by thirteen men—six clergymen and seven laymen—as the Baptist Education Society of the State of New York. Its first classes were held in a building in the rural village of Hamilton, New York. In 1826, the college's trustees purchased the farmland just outside Hamilton known as "The Hill" and created Colgate's campus, erecting the iconic stone buildings that the school is known for today. The school's first building, West Hall, was built by students with stone from the college's own rock quarry. The school went through several name changes and became Colgate University in 1890, when James B. Colgate—of the Colgate soap and toothpaste company—established a $1 million endowment for the college known as the Dodge Memorial Fund.
A primarily undergraduate institution since its inception, Colgate continued to grow throughout the 20th century and currently offers 56 undergraduate majors. The school became fully coed in 1970, and its beautiful Old Biology Hall building was added to the National Register of Historic Places in 1973. Starting with students admitted in 2022, Colgate offers full tuition remission for students from families earning less than $80K per year and has replaced its federal loan program with grants for families earning more than that. Its athletic programs participate in the NCAA Division I, and Colgate is considered one of the Little Ivies.
Notable Colgate alumni include groundbreaking politician and civil rights activist Adam Clayton Powell Jr., Ben & Jerry's ice cream co-founder Ben Cohen, former NBA Golden State Warriors player Adonal Foyle, New York State Lieutenant Governor Antonio Delgado, and cultural psychologist Michele Gelfand.
Traditions:
The Division I Men's ice hockey game between Colgate and Cornell draws big crowds and raucous cheering from Colgate students, who are known to throw packs of Big Red gum on the rink before the game (while Cornell fans throw tubes of Colgate toothpaste).

Colgate's annual Springfest gives students an occasion to relax before finals and features outdoor concerts, a barbeque, and a fireworks display.

Given the special meaning of the number 13 to Colgate's history, every Friday the 13th is Colgate Day—a day when students wear maroon and show their school spirit on campus and on social media.
Noteworthy Features:
In keeping with Colgate's rural, mountainous Upstate New York location, the college offers five interdisciplinary environmental majors: environmental economics, environmental studies, environmental biology, environmental geography, and environmental geology.

Interdisciplinary study is a central element of Colgate's pedagogy; all Colgate students complete coursework in the Interdisciplinary core, which includes five courses in the liberal arts core—Communities and Identities, Legacies of the Ancient World, Global Engagements, Challenges of Modernity, and Scientific Perspectives on the World.

Roughly two-thirds of Colgate students study abroad, and the college offers about 20 semester-long, faculty-led, off-campus study programs. The college also offers five to eight "extended-study" travel programs that serve as two-or three-week extensions of regular on-campus courses.
Admissions Profile
Average GPA: 3.77
Test Scores (mid-50% range): 1360-1490 SAT/ 31-43 ACT
Admit Rate: 17.2%
Test-optional? Yes
Offers Early Admissions? Yes–Early Decision I and II
Supplemental Essays
Colgate University does not have a supplemental essay.