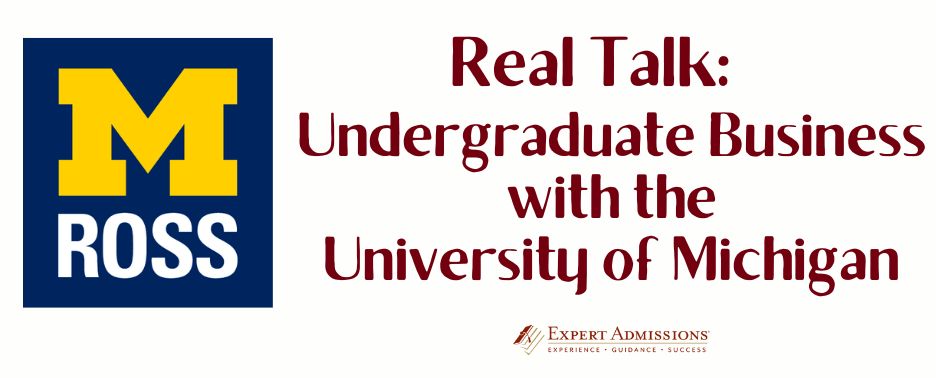 Expert Admissions hosted a webinar to give you an in-depth look at the application process for the University of Michigan's Ross School of Business. Our guest was Blaire Moody Rideout, Director of Undergraduate Admissions for Ross. We talked about what makes a standout application, how applications are read, what makes Ross unique, and more. Keep reading for highlights from the conversation and watch the webinar above.
The Ross Program 
The Ross School of Business offers a broad management degree that allows students to choose the courses that best align with their interests. There is only one major in the business school (Bachelor of Business Administration), but students can choose one or more specializations, such as sales or public policy. The BBA degree is designed to be as fluid as the changing world of business, offering the flexibility for students to gain a variety of skills and specialties.
Ross is known for action-based learning where students work closely with their peers in a collaborative environment. The business school has its own core curriculum of foundational business courses that students begin in their sophomore year and continue with the same cohort of students.
For students who want to pursue business but are not admitted to Ross, there are options available through the school of Literature, Science, and the Arts (LSA). LSA offers an economics major as well as minors in business, entrepreneurship, and real estate. LSA students can take Ross courses and enroll in study abroad programs designed for business students.
Ross by the Numbers
Ross has a class of 500 first-year students each year. That number increases to 625 for the sophomore class, where 125 spots are reserved for transfer students. 100 of these spaces are offered to current U-M students who have decided to pursue business, usually as a dual degree with another of the undergraduate colleges. 25 spaces are reserved for students from outside the university, with preference given to Michigan residents who have been attending community colleges.
The admit rate for Ross is 9%, compared to the 20% overall admit rate for the University of Michigan.
What Makes a Standout Applicant?
Moody Rideout emphasized that Ross is looking for creative problem solvers. A Ross education focuses on case-study analysis, and Ross students should be prepared to look at a situation, analyze it, and provide a solution.
In keeping with Ross' emphasis on case studies, the application for Ross includes a supplemental component known as the Admissions Portfolio. The portfolio reflects a student's experiences with leadership and collaboration. Students are invited to share an artifact of their learning that showcases what they're most proud of and what they've learned. The final component of the portfolio is the business case discussion. Students choose an issue that's local to their community, identify any problems from a business perspective, and propose a solution. Portfolios are read by two admissions officers before receiving an administrative review by admissions officers and faculty.
First-year students applying to Ross don't need to have started their own business or completed a business internship; the admissions committee at Ross is more interested in seeing that a student is a strong logistical problem solver, takes initiative, and is actively engaged in activities that demonstrate a personal interest in and innovative approach to business.
The Application Process
To apply to Ross, students must first apply to one of five other schools at the University of Michigan as their "first-year admitting school": LSA, the College of Engineering, Stamps School of Art and Design, The School of Music, Theatre, and Dance, or the School of Kinesiology. Once a student is admitted to one of these schools, there are two pathways to Ross: the direct admit option (LSA) and the preferred admit option (ENG, STAMPS, SMTD, and KINES).
Either way, students can apply to Ross under an Early Action plan by November 1 or a Regular Decision plan by February 1. Moody Rideout noted that the Ross admissions office begins reviewing applications in October, but that there is no preference given to applications that are submitted before the November 1 deadline.
As always, we asked our guest to respond to their own supplemental essay prompt. To hear what Moody Rideout had to say, and for all the details on these topics and more, watch the webinar at the top of the page.