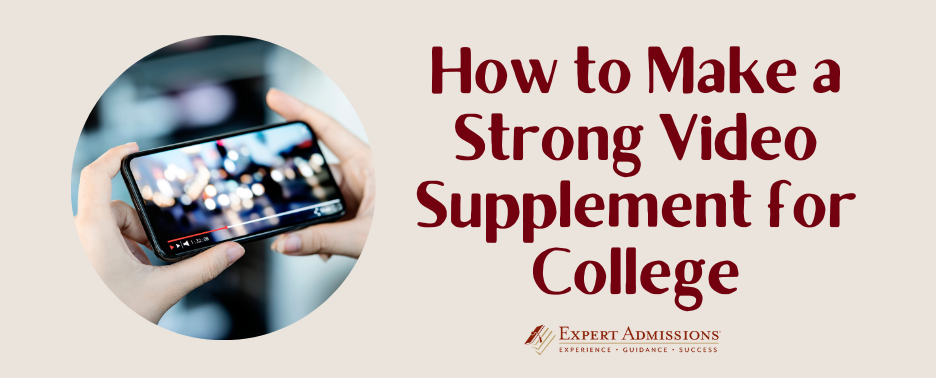 The Covid-19 pandemic brought several changes to the college application process. One roadblock was that admissions representatives or alumni couldn't interview students in person. 2020's admissions cycle saw the emergence of a new component—the video supplement. Colleges such as Brown, Bowdoin, George Mason, Tufts, the University of Chicago, and Washington University in St. Louis introduced the option for students to upload a short video (typically two minutes) to showcase who they are. Many colleges have kept the video supplement as an option for their application package. If you're wondering how to create a video that highlights your best self, we have provided some tips to help you get there.
Colleges may word the prompt for the video components differently, but there are similarities in what they're looking for. Below are a couple of examples:
Brown:
The video introduction gives you an opportunity to tell us more about yourself, in your voice, beyond the information you provided in your application. Sharing a two-minute personal video is a helpful way to show us who you are and why you are interested in attending Brown.
University of Chicago:
You have two options to submit a video introduction if you would like to add your voice to your application. You may upload a two-minute video directly through your UChicago Account or create a 60-90 second video using Glimpse by InitialView.
Both of these colleges ask for two-minute videos. Brown clarifies that this is helpful in showing who the student is, while UChicago has mentioned that the video would add "voice" to the student's application. Brown adds that the video should highlight why you are interested in attending the university. These schools also go on to include format and guidelines that applicants should follow, such as landscape over portrait, where to upload, deadlines etc.
When working on your video supplement, a good place to start is to write down a loose script so you have a clear idea of what you will say and show in your video. This might seem obvious, but when working on your video, make sure it shows you. Colleges want to know who you are—don't be afraid to show your personality in your video. Keep it authentic. Focus on where your genuine interests lie, how you spend your free time and what matters to you. Colleges appreciate students who can light up a room and make others smile, and the video supplement can also be an appropriate place to show your sense of humor.
Remember that admissions officers are also reading your activities list and personal statement. While it's fine to talk about your favorite extracurricular or academic subject, remember not to repeat what you've already elaborated on in other parts of your application. The video supplement, just like school-specific supplemental essays, demonstrates how you would contribute to campus and where you would fit in the community. Consider your role in your current commitments. How would your friends describe you? What is something surprising about you? If you have an unusual talent or hobby, this is a great place to convey more information.
A few different scenes or settings can also help make your video more interesting. While Brown asks that you initially face the camera and introduce yourself with your name and school, you don't have to talk to the camera throughout the entire video. Add footage of performances, sports games, family trips—anything that shows you in your element and the parts of your life that hold the most significance.
Admissions officers know you're not a professional director and aren't expecting a huge production. There's no need to go out of your way to use advanced editing software. Focus on the content. A video shot on an iPhone is perfectly fine as long as the video conveys who you are.
While you should mention why you're interested in a school—especially if the prompt has asked for it—don't make it the main topic of your video–save that for your supplemental essays, especially if the school asks for a "why this college" essay. Your video should instead paint a picture of what makes you a unique candidate and provide the viewer with a clear picture of how you would contribute to the college. So, grab a pen and start brainstorming your script!