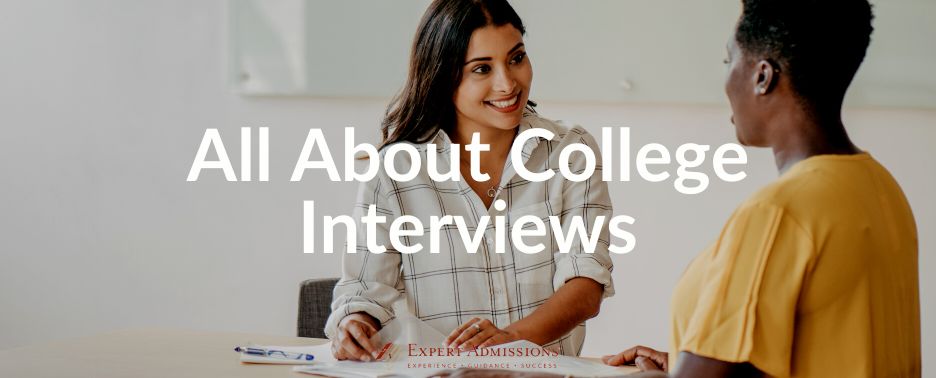 College interviews are not usually a major factor in admissions decisions, but they can be a great chance for you and a college to get to know each other better. Different colleges will have different interview policies, including the purpose of the interview, who is conducting it, whether it's virtual or in person, etc. Keep reading to learn more about what to expect in a college interview and what's expected of you. And check out our list of colleges offering interviews here.
Why Interview?
Interviews are generally beneficial to both the student and the college. For students, interviews are an opportunity to get to know a school better, ask any lingering questions, and (in the case of alumni interviews) hear what the student experience is like on campus. Interviews are also a great way to show a college you're serious about them, which can be important at schools that consider demonstrated interest in admissions decisions. Colleges can use interviews in a few different ways, but they're typically broken down into two categories: evaluative and informational.
Evaluative interviews are reviewed as part of your application. They give the school a better sense of your personality, interests, and goals. These interviews help the school determine whether you're a good fit for their campus. While the interviewer usually doesn't have major influence in admissions decisions, they will share their impressions with the admissions committee. Note that if an interview is required, it's likely evaluative.
Informational interviews are a chance to provide students with additional information about the institution. These interviews are almost always optional, and in some cases, the school may not even call them "interviews." Some colleges, for example, will describe them as one-on-one appointments with admissions officers. While informational interviews are designed to answer the student's questions, the interviewer will still form an impression of you. It's very possible that impression will be passed along to the admissions committees, so make sure you take these interviews seriously.
Who is my interviewer?
Some interviews, particularly on campus, are conducted by admissions officers. Depending on the school or program, you might interview with current faculty or students. However, most interviews are conducted by alumni of the college or university. Alumni live all over the country (or internationally), so schools can offer interviews to more students from more areas by mobilizing their alumni network. For schools that require or recommend interviews, it's likely that at least one interviewer lives in your area and will be able to set up an in-person interview.
If you happen to live in an area without an interviewer, online interviews are usually available. During the pandemic, many schools switched entirely to virtual interviews, and they will be given the same weight as in-person interviews.
If you cannot set up a virtual interview either, don't panic. Colleges and universities will not punish you for where you live or the fact that there were more requests for interviews than could be fulfilled by their alumni network.
When should I request an interview?
Because there are often fewer interviewers than students who want an interview, it's important to request interviews as early as you can. But knowing what "early" means can be tricky. Schools have widely varying policies about when and how they accept interview requests. Some ask you to set up an interview after you apply, while others ask you to indicate on the application whether you'd like an interview. For schools with required interviews, you may find that the deadline to request an interview is actually earlier than the application deadline. It's crucial that you look up the specific guidelines at each school you're applying to. Check the college website first, but if you have trouble finding the information you need, contact the admissions office.
Note that a few schools offer interviews by invitation only. Don't read too much into it if you don't get an invitation. Typically, these schools will request an interview if they feel they need more information before they can make a decision on your application. If you are invited to interview, we strongly encourage you to do so!
How should I prepare for my interview?
If you're interviewing in person, factor in plenty of time to get lost, find parking, and still arrive calm and collected. If you're interviewing virtually, don't skip the prep. Make sure your computer's camera and microphone are working well in advance, and if you're having connectivity issues, write to your interviewer before your meeting. Think carefully about your space, too. Choose a blank background – or at least one that isn't distracting – and be sure that your light sources are in front of you, not behind.
Some schools are choosing to solicit short "video profiles" instead of interviews. These are self-recorded videos that will convey much of the same information as an interview. Usually, the same advice applies here as to virtual interviews, but schools that are going this route often provide their own tips, so be sure to refer to the specific school's website.
Whether in person or online, choose an outfit that presents maturity and polish, something like what you would wear for Picture Day at school. Avoid t-shirts, cargo shorts, and flip-flops; opt instead for collared shirts or sweaters, dress pants or khakis, and some nicer closed-toed shoes. And don't forget about these important accessories: a pen and a notebook. You'll hopefully be learning as much about the school as the interviewer learns about you, so you want to look engaged and be prepared to take notes. An interview is a conversation, not an interrogation!
The conversational aspect of the interview is really important to keep in mind. Avoid one-word answers as well as longer responses that feel rehearsed. Be prepared to talk specifically about the school you're interviewing with, to give robust answers, and to elaborate and keep the conversation going. If you need to think about an answer that's fine!  Take a breath and be thoughtful in your response. Interviewers generally like to see that you're taking their questions seriously, and there's no need to fill a pause with an uncomfortable phrase like, "that's a great question" or to thank them for asking it.
With so much to think about before you even walk through the door or turn on your camera, don't forget to brainstorm some answers to common interview questions. Some of the most frequent topics of discussion are your interest in the school you're interviewing with, your activities outside of school, and your role models or favorite teachers. The last question you'll almost certainly be asked is, "Do you have any questions for me?"  Don't let it catch you off guard!  Research the schools on your list before you start scheduling interviews, and think ahead about what you might want to ask your interviewer. Don't ask questions that have answers easily found on the school's website. Also, be sure to tailor your questions to the person who is interviewing you (e.g., an alumni representative versus a current student versus an admissions officer).
If you plan ahead, stay calm, and do your research, you'll be well set up for a successful interview!