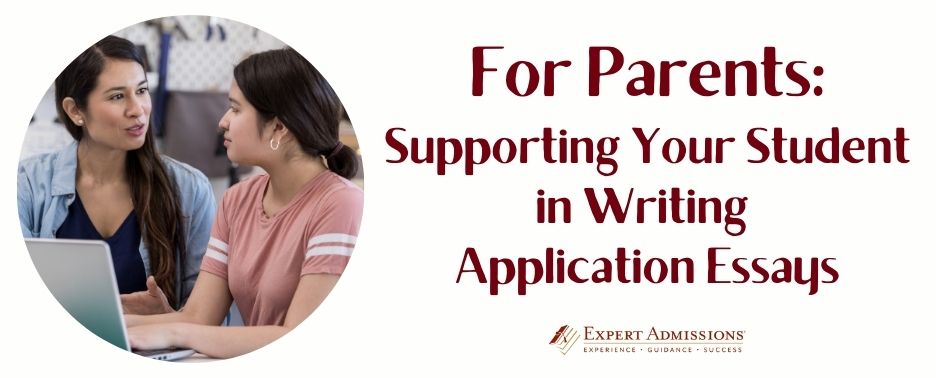 Without a doubt, essays are one of the most important–and the most challenging–elements of the college application process. Supporting your teen in writing compelling and authentic essays is one of the best things you can do to help assure their success.
If your student is using the Common Application, they'll need to write a 650-word personal statement (we call it "the main essay"). This essay will be included in every application they submit. You will see that the Common Application offers your student a choice of six different prompts to respond to for this essay, or they may choose to write the essay on any topic of their choice.
The main essay should show colleges who your student is. Admissions committees will assess your student "by the numbers" by viewing their grades and standardized test scores (if they're submitting them), but the main essay gives readers insight into your student's character, life experience, and values. It allows admissions officers to visualize your student as a person and consider what they'd contribute to the school. For this reason, the main essay deserves a lot of care and attention.
The first step in supporting your teen in writing this essay is to recognize that writing is a process. There can and should be multiple drafts of the main essay. Encourage your student to get an early start on the writing process so that they have plenty of time to write and revise. The experience of writing–not to mention the quality of the essay–will be so much better if it's not rushed.
Help your student set aside dedicated time each week to work on their essay in the months leading up to application deadlines. As a parent, you can help facilitate a positive writing experience by reminding your student not to give up and that good writing takes time and dedication.
Let your student write the essay themselves. Admissions committees are very adept at spotting essays that aren't written by teenagers! Submitting an essay that your student didn't author themselves can have disastrous consequences, namely your student's application being denied.
Seeking writing help for your student from a counselor, tutor, writing specialist, or even a friend or family member is a great idea. Having regular support with writing can also be an excellent way to keep your student on track in the months and weeks leading up to application deadlines. At the end of the day, however, your student's words need to be their own.
In addition to the main essay, many colleges require supplemental essays as part of their application package. These essays, often in the 100-300 word range, highlight a particular aspect of your student's accomplishments, community contributions, or personality. Supplemental essays show that your student can speak engagingly about a particular subject in a small amount of space. To learn more about common supplemental essay topics, check out our blog post here.
You can support your student in writing those supplemental essays by helping them find the supplemental essay prompts for each school they're applying to well in advance of the application deadline. Because supplemental essays are so short, they can often be harder to write, so don't treat them as an afterthought.
As with the main essay, these essays should be given plenty of attention, and time should be set aside for multiple drafts. Having dedicated time each week for working on these essays is a great way to make sure they shine.
Perhaps the single best way to support your student in writing their application essays is to encourage them to really be themselves. Colleges want to get to know the unique, genuine individual that your teen is–not an idealized version of themselves, but the real deal. The voice that they use and the story that they tell in their essays will be the primary ways that colleges see who they are. Let your student know that when it comes to college essays, authenticity is key.