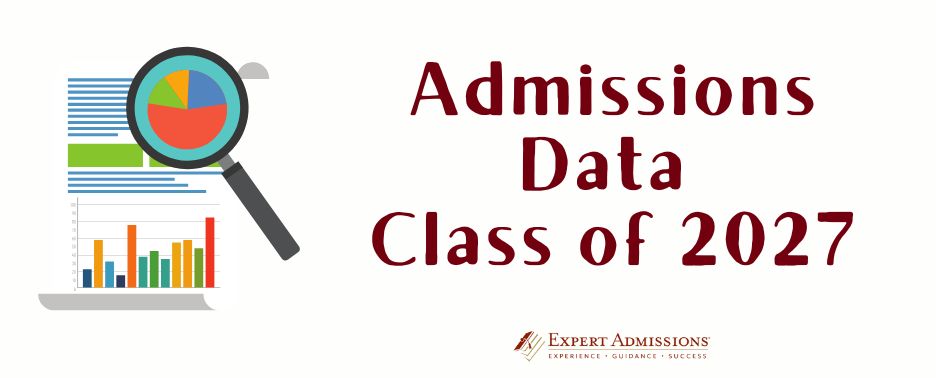 It's June, and that means we know many of the final admissions decisions for the class of 2027.
Some schools have continued to receive record numbers of applications this year. The steep downward trend in admit rates seems to be leveling off, though, with some highly selective colleges and universities reporting higher admit rates this year than last year.
See the table below for comprehensive admissions data for the class of 2027, which includes all admissions rounds. More detail on Early Decision and Early Action is available here.
Some highly selective schools, including Princeton, Stanford, and University of Pennsylvania, have decided not to release their admissions data again this year.
| School | # of Applications | # Accepted | Admit Rate |
| --- | --- | --- | --- |
| American University | 18,984 | 8,353 | 44% |
| Amherst College | 12,700 | 1,143 | 9% |
| Barnard College | 11,803 | 767 | 6.5% |
| Bates College | 8,937 | 1,072 | 12% |
| Boston College | 36,525 | 5,511 | 15.1% |
| Boston University | 80,484 | 8,612 | 10.7% |
| Bowdoin College | 10,966 | 850 | 7.8% |
| Brown University | 51,302 | 2,609 | 5.1% |
| Bryn Mawr College | | | 30.0% |
| Bucknell University | 10,988 | 3,516 | 32.0% |
| California Institute of Technology (Caltech) | | 412 | |
| Carleton College | 6,465 | 1,406 | 21.7% |
| Carnegie Mellon University | | | 11.0% |
| Colby College | 17,800 | 1,142 | 6.4% |
| Colgate University | 21,127 | 2,452 | 11.6% |
| College of William and Mary | 17,500 | 5,600 | 32.0% |
| Colorado College | 7,526 | 1,477 | 19.6% |
| Columbia University | 57,129 | 2,246 | 3.9% |
| Cornell University | 68,000 | 4,994 | 7.3% |
| Dartmouth College | 28,841 | 1,751 | 6.1% |
| Duke University | 49,469 | 2,948 | 6.0% |
| Elon University | | | 67.0% |
| Emory University | 33,534 | 3,428 | 10.2% |
| Fordham University | 44,893 | 22,447 | 50.0% |
| Georgetown University | 25,519 | 3,263 | 12.8% |
| Georgia Institute of Technology | 52,500 | 8,400 | 16.0% |
| Harvard University | 56,937 | 1,942 | 3.4% |
| Johns Hopkins University | 38,200 | 2,411 | 6.3% |
| Lafayette College | 9,866 | 3,032 | 30.7% |
| Lehigh University | 18,414 | 5,246 | 28.5% |
| Macalester College | 8,096 | 2,225 | 27.5% |
| Middlebury College | 13,297 | | |
| MIT | 26,914 | 1,259 | 4.7% |
| Mount Holyoke College | | | 38.0% |
| New York University (NYU) | 120,000 | 9,600 | 8.0% |
| Northeastern University | 96,327 | | |
| Northwestern University | 52,225 | 3,656 | 7.0% |
| Pitzer College | 3,566 | 567 | 15.9% |
| Pomona College | | 757 | |
| Providence College | 12,400 | | |
| Rice University | 31,049 | 2,399 | 7.7% |
| Santa Clara University | 18,839 | 7,912 | 42.0% |
| Smith College | 9,868 | 1,875 | 19.0% |
| Swarthmore College | 14,287 | 969 | 6.8% |
| Tufts University | 34,000 | 3,230 | 9.5% |
| Tulane University | 30,769 | 4,000 | 13.0% |
| University of Chicago | | | 5.0% |
| University of Connecticut (UConn) | 48000 | | |
| University of Notre Dame | 28,351 | 3,399 | 12.0% |
| University of Pennsylvania | 59,000 | | |
| University of Richmond | 15,757 | 3,467 | 22.0% |
| University of Southern California (USC) | 80,790 | 8,032 | 9.9% |
| University of Vermont | | | 60.0% |
| University of Virginia | 56,439 | 9,184 | 16.3% |
| University of Wisconsin, Madison | 65,000 | | |
| Vanderbilt University | 47,120 | 2,645 | 5.6% |
| Villanova University | 23,721 | 4,863 | 20.5% |
| Virginia Institute of Technology (Virginia Tech) | 47128 | | |
| Washington and Lee University | | 1,189 | |
| Washington University in St. Louis | ~32000 | 3644 | ~11% |
| Wellesley College | 8,400 | 1,092 | 13.0% |
| Wesleyan University | 14,499 | 2,283 | 15.7% |
| Williams College | 11,258 | 1,113 | 9.9% |
| Yale University | 52,250 | 2,275 | 4.4% |