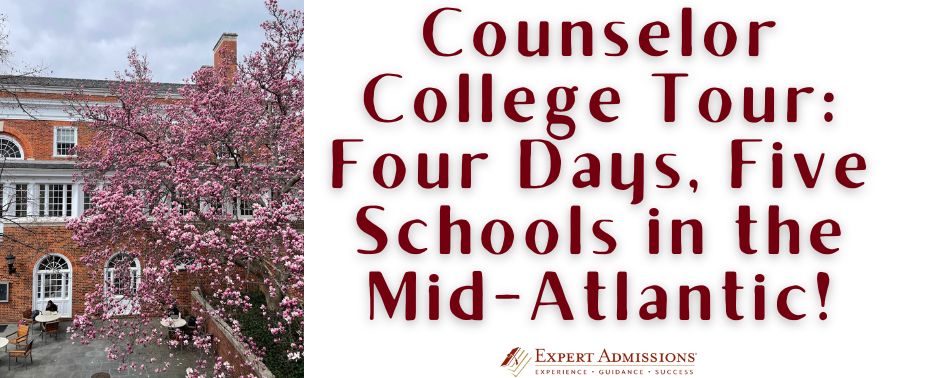 EA Senior Admissions Counselors Christina DeCesare and Trish Fairweather Cody recently visited colleges in Virginia, Maryland, and Delaware. Below are some quick notes on their impressions.
William & Mary 
Founded in 1693, William & Mary is the second-oldest college in the country. The campus is beautiful! It's green and walkable and located in the heart of historic Williamsburg, VA (access to Colonial Williamsburg is free for W&M students and some classes are taught there). W&M is home to the country's first law school and honor code. It is a mid-sized, public institution with 6,500 undergraduates and DI sports. The academics are rigorous, and students are required to complete a core curriculum that includes classes in writing, classic texts, global issues, and equity. There is a highly competitive joint degree program with St Andrews in Scotland for students interested in international relations, history, English, classical studies, or film and media studies. There is an optional essay for W&M on the Common Application, but it is strongly recommended that students complete this essay. We loved that W&M is the top public institution for study abroad and that students on campus seemed incredibly happy to be there.
The University of Richmond 
Nestled on a hill just a few miles from the heart of downtown Richmond sits the University of Richmond. The city is home to 900 restaurants, seven Fortune 500 Companies, 25 museums, and the 550-acre James River Park system. There is a lot to do! We were first struck by the impressive buildings and pristine campus. The gothic architecture reminded us of religious buildings, though there is no longer a religious affiliation on campus. There is a beautiful lake on campus, and students were walking and running around it the day we visited. Our information session was given by a current senior student intern for the Admissions Office, and we were impressed by her presentation skills and ease with answering questions from the audience. If it is a light day in Admissions, you might even get your very own reserved parking space. The smallest school on our tour, the student body is approximately 3,200 undergraduate students. In terms of academics, there are three undergraduate schools: the School of Arts & Sciences, the Robins School of Business, and the Jepson School of Leadership Studies (the first of its kind in the country). We loved the Richmond Guarantee, which provides $5,000 of funding for students to complete internships and/or research. Every Richmond student is eligible, at least once, for this funding as long as they apply. Additionally, there is a $1,500 cultural stipend to spend while studying abroad, which approximately 67% of Richmond students choose to do. Every applicant to UofR applies undecided; students can apply into Jepson or Robins after their first year. Approximately 66% of students at Richmond pursue multiple areas of study. Go Spiders!
The University of Virginia 
The University of Virginia was founded by Thomas Jefferson, who wanted to foster a life-long love of learning in students. UVA students symbolically use the terms "first year" and "fourth year" instead of "freshman" and "senior" to indicate that the process of learning won't stop once they graduate. They also call the campus "Grounds" because Jefferson thought the beauty of the space wasn't properly conveyed by the term "campus." Today, UVA's 16,000+ undergraduate students have adopted this language as they embrace the traditions of their institution, including the long-standing tradition of student self-governance. Students are given the autonomy and responsibility of determining their own experience on Grounds through student-run committees like the Honors Committee, the Judiciary Committee, and Student and Class Councils. One of the campus' many libraries was packed with students studying for midterms when we passed through at 11am, and our tour guide was quick to point out that UVA students take both their studying and their fun very seriously! There was a lot of construction underway on campus as they work to improve their facilities, but even with certain areas blocked off, we noticed many hidden little courtyards and benches tucked away where students were studying or relaxing. UVA is located in the foothills of the Blue Ridge Mountains, so we shouldn't have been surprised at how hilly campus was, but we weren't expecting it. Wear comfortable shoes for your visit!
The University of Maryland 
Our tour was co-led by two energetic and very personable sophomore students, and that seems to be indicative of the environment at the University of Maryland. Both students said they find the academic community to be collaborative, with students often working together rather than competing against each other. This campus of 30,000 undergraduates is separated into North Campus and South Campus by McKeldin Mall, a nine-acre quad that runs east-west through campus (and is the largest academic mall in the US!). The academic buildings that line McKeldin Mall have a traditional college feel to them–bricks and columns–but have been modernized inside. Just off campus is a Metro stop that leads into DC, which is only 20 minutes away by train. Students we saw walking around campus seemed mature and happy, there was noticeable diversity among the student body, and there were a lot of ROTC cadets in uniform. We noticed a real effort at inclusivity on campus. For instance, the dining hall (named Yahentamitsi, the Piscataway word for "a place to eat") keeps special hours during Ramadan, and new residence halls are named for UMD students who have broken academic barriers. An admissions counselor shared with us that they don't review applications by major and that they do their initial reviews "major-blind." If a student has applied to a Limited Enrollment Program and doesn't make that first cut for the program at the point of admissions, they can begin in Letters & Sciences and work to join the LEP once they're enrolled. We were really impressed with the University of Maryland–both the students and the campus!
The University of Delaware
With over 18,000 undergraduate and over 4,000 graduate students, the University of Delaware is a large school, but it doesn't feel overwhelmingly so. The well-kept campus is walkable with a few different central quad areas surrounded by academic, residential, and student life buildings. Each residential area has dining options and recreation facilities nearby, and one student center even has a state-of-the-art eSports gaming arena. Classes have an average of 35 students, and applicants seeking an even smaller or more curated academic experience could look into the Honors College, the World Scholars Program, or other special academic communities like the Climate Scholars, the Community Engagement Scholars, or Cybersecurity Scholars, to name a few. Located in Newark, DE, the campus is about an hour from both Philadelphia and Baltimore and about two hours from NYC and Washington, DC; Amtrak and SEPTA stations are less than a mile away. Newark's Main Street runs through campus near its north boundary, offering countless shops and restaurants (both chains and local spots). On a beautiful early spring afternoon, students were out and about on Main Street, in the gym, and relaxing around campus. We liked what we saw! We did notice that the drive from the highway to get to campus isn't quite a s nice as campus itself, so make sure you don't write it off before you get there!