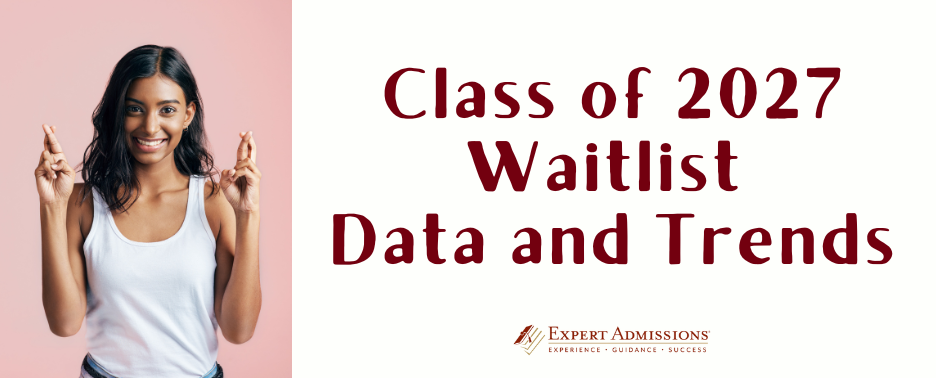 As summer rolls around and you're considering your options for college for the fall, you might find yourself waitlisted at some of your top-choice schools. If you're looking for answers as you navigate the uncertainty of this period, we're here to help!
Being admitted off of a waitlist has always been a rarity, especially at highly selective schools. While there has been some fluctuation and unpredictability around admissions numbers in recent years, colleges' overall trend has been in the direction of lower admit rates. This year has been no exception. Being placed on a waitlist can add to the sense of anticipation–and confusion–around your admission status. We have put together as much data as we know, with the aim of giving you some clarity in the coming months.
The first table below contains what we know now about when you should hear back about college waitlists, which schools have already gone to the waitlist, and which waitlists have already closed.
The second table below shows historical data on waitlist movement, starting with this year and going back to 2019. You'll see the number of students offered a place on the waitlist, the number of students who've accepted their spot on the waitlist, and how many were ultimately offered admission. The admit rate was calculated based on the number of students who were admitted out of those who chose to stay on the waitlist.
Historical data was compiled using the Common Data Set (CDS) and is therefore dependent on what each school has chosen to report. If you're not familiar with the CDS, try entering a search in your browser for "[School Name] common data set." You'll find tons of information on admissions statistics, graduation rates, financial aid, and much more.
Many colleges do not make their CDS publicly available or do not report all information requested — these include Duke, Brandeis, Brown, MIT, Northwestern, Rice, and Sarah Lawrence, among others.
| School | Waitlist Notification Date | Notes |
| --- | --- | --- |
| American University | by May 15 | class is full; waitlist closed |
| Amherst College | | class is full; waitlist closed |
| Babson College | | class is full; waitlist closed |
| Bard College | TBA | |
| Barnard College | TBA | class is full; waitlist closed |
| Baylor University | | applicants updated May 15 |
| Bentley University | usually mid-May | |
| Boston College | | |
| Boston University | Between May 1 and June 15 | class is full; waitlist closed |
| Bowdoin College | after May 1 | |
| Brandeis University | TBA | |
| Brown University | begins mid-May | class is full; waitlist closed |
| Bryn Mawr College | TBA | |
| Bucknell University | | class is full; waitlist closed |
| California Institute of Technology (Caltech) | | class is full; waitlist closed |
| Carleton College | TBA | class is full; waitlist closed |
| Carnegie Mellon University | priority waitlist begins May 9; regular waitlist begins June 1 | class is full; waitlist closed |
| Case Western Reserve University | | class is full; waitlist closed |
| Claremont McKenna College | TBA | class is full; waitlist closed |
| Colby College | TBA | |
| Colgate University | | |
| College of Charleston | by June 15 | |
| College of William and Mary | by August 1 | class is full; waitlist closed |
| Colorado College | TBA | class is full; waitlist closed |
| Columbia University | | |
| Cornell University | after May 1 | class is full; waitlist closed |
| Dartmouth College | by June 30 | class is full; waitlist closed |
| Davidson College | between May 1 and June 24 | |
| Dickinson College | as early as mid-April | class is full; waitlist closed |
| Duke University | | class is full; waitlist closed |
| Elon University | | class is full; waitlist closed |
| Emerson College | | |
| Emory University | | class is full; waitlist closed |
| Fordham University | TBA | |
| Franklin and Marshall College | TBA | |
| George Washington University | | |
| Georgetown University | by May 15 | class is full; waitlist closed |
| Georgia Institute of Technology | after May 1 | class is full; waitlist closed |
| Gonzaga University | TBA | class is full; waitlist closed |
| Grinnell College | by early July | class is full; waitlist closed |
| Hamilton College | begins May 1 | class is full; waitlist closed |
| Harvard University | by end of June | |
| Harvey Mudd College | after second week of May | class is full; waitlist closed |
| Haverford College | | class is full; waitlist closed |
| Indiana University - Bloomington | By June 15 | |
| Johns Hopkins University | after May 1 | class is full; waitlist closed |
| Kenyon College | By June 30 | class is full; waitlist closed |
| Lafayette College | | class is full; waitlist closed |
| Lehigh University | | class is full; waitlist closed |
| Loyola Marymount University | TBA | class is full; waitlist closed |
| Loyola University New Orleans | TBA | |
| Macalester College | by May 31 | class is full; waitlist closed |
| Miami University (Ohio) | mid-May - August 1 | |
| Middlebury College | TBA | class is full; waitlist closed |
| MIT | by May 15 | |
| Mount Holyoke College | after May 1 | class is full; waitlist closed |
| New York University (NYU) | by August 1 | |
| Northeastern University | | |
| Northwestern University | | |
| Oberlin | TBA | |
| Pennsylvania State University | TBA | class is full; waitlist closed |
| Pitzer College | TBA | class is full; waitlist closed |
| Pomona College | begins early to mid-May | class is full; waitlist closed |
| Princeton University | | class is full; waitlist closed |
| Reed College | TBA | class is full; waitlist closed |
| Rensselaer Polytechnic Institute (RPI) | April to June | class is full; waitlist closed |
| Rhodes College | TBA | class is full; waitlist closed |
| Rice University | | |
| Rochester Institute of Technology (RIT) | TBA | class is full; waitlist closed |
| Rutgers University | by August 1 | |
| Santa Clara University | through June | class is full; waitlist closed |
| Sarah Lawrence College | TBA | |
| Scripps College | begins late May | class is full; waitlist closed |
| Smith College | | class is full; waitlist closed |
| Southern Methodist University (SMU) | TBA | |
| Stanford University | by July 1 | class is full; waitlist closed |
| Swarthmore College | TBA | class is full; waitlist closed |
| Syracuse University | after May 1 | class is full; waitlist closed |
| Texas Christian University (TCU) | Final two weeks of April | class is full; waitlist closed |
| Tufts University | by early June | class is full; waitlist closed |
| Tulane University | by July 1 | |
| University of California System | between May and July | UC San Diego will release waitlist admissions by June 30 |
| University of Chicago | | |
| University of Connecticut (UConn) | TBA | |
| University of Delaware | TBA | |
| University of Illinois at Urbana-Champaign | by late June | class is full; waitlist closed |
| University of Massachussetts-Amherst | beginning after May 1 | class is full; waitlist closed |
| University of Miami | by June 15 | class is full; waitlist closed |
| University of Michigan | by mid-June | class is full; waitlist closed |
| University of North Carolina-Chapel Hill | by June 30 | class is full; waitlist closed |
| University of Notre Dame | between early May and May 15 | class is full; waitlist closed |
| University of Pennsylvania | | class is full; waitlist closed |
| University of Richmond | by the end of June | class is full; waitlist closed |
| University of Rochester | early May - August 1 | |
| University of San Francisco | by May 5 | class is full; waitlist closed |
| University of Vermont | TBA | class is full; waitlist closed |
| University of Virginia | Mid-May to June 30 | class is full; waitlist closed |
| University of Washington | | class is full; waitlist closed |
| University of Wisconsin, Madison | by July 31 | class is full; waitlist closed |
| Vanderbilt University | early May - end of June | |
| Vassar College | | class is full; waitlist closed |
| Villanova University | | class is full; waitlist closed |
| Virginia Institute of Technology (Virginia Tech) | by July 1 | class is full; waitlist closed |
| Wake Forest University | | waitlist offers began May 4, 2023 |
| Washington and Lee University | after May 1 | class is full; waitlist closed |
| Washington University in St. Louis | by June 30 | class is full; waitlist closed |
| Wellesley College | before August 1 | class is full; waitlist closed |
| Wesleyan University | by June 30 | class is full; waitlist closed |
| Williams College | begins in May | class is full; waitlist closed |
| Worcester Polytechnic Institute | TBA | |
| Yale University | TBA | class is full; waitlist closed |
| School | Waitlist Offered (2022) | Waitlist Accepted (2022) | Waitlist Admitted (2022) | Admit Rate (2022) | Waitlist Offered (2021) | Waitlist Accepted (2021) | Waitlist Admitted (2021) | Admit Rate (2021) | Waitlist Offered (2020) | Waitlist Accepted (2020) | Waitlist Admitted (2020) | Admit Rate (2020) | Waitlist Offered (2019) | Waitlist Accepted (2019) | Watilist Admitted (2019) | Admit Rate (2019) |
| --- | --- | --- | --- | --- | --- | --- | --- | --- | --- | --- | --- | --- | --- | --- | --- | --- |
| American University | 9,146 | 2,086 | 88 | 4.20% | 3,589 | 1,082 | 81 | 7.5% | 5,158 | 1,657 | 133 | 8% | 4,686 | 961 | 137 | 14.3% |
| Amherst College | 1,419 | 902 | 36 | 3.99% | 1,285 | 788 | 0 | 0% | 1,640 | 1,081 | 7 | 0.6% | 1,447 | 762 | 48 | 6.3% |
| Babson College | 2699 | 1286 | 0 | 0.00% | | | | | | | | | 1,676 | 660 | 121 | 18.3% |
| Barnard College | 2096 | | 258 | | | | | | 2,096 | unreported | 258 | | 1,545 | unreported | 46 | |
| Baylor University | 3767 | 819 | 491 | 59.90% | 968 | 253 | 3 | 1.2% | 1,674 | 562 | 83 | 14.8% | 6,884 | 1,637 | 803 | 49.1% |
| Boston University | 9643 | 5899 | 3 | 0.05% | | | | | 8,791 | 5,592 | 674 | 12.1% | 5,235 | 2,987 | 339 | 11.3% |
| Brandeis University | | | | | | | | | 2,088 | 832 | 99 | 11.9% | 1,553 | 638 | 9 | 1.4% |
| Brown University | unreported | unreported | 15 | | unreported | unreported | 28 | | unreported | unreported | 194 | | unreported | unreported | 127 | |
| Bryn Mawr College | | | | | 1,026 | 640 | 17 | 2.7% | 865 | 531 | 17 | 3.2% | 627 | 335 | 37 | 11% |
| Bucknell University | 3,463 | 1,544 | 10 | 0.64% | 3,743 | 1,736 | 64 | 3.7% | 2,942 | 1,180 | 115 | 9.7% | 3,149 | 1,379 | 125 | 9.1% |
| California Institute of Technology (Caltech) | 501 | 394 | 5 | 1.26% | 268 | 213 | 0 | 0% | 312 | 235 | 10 | 4.3% | 501 | 394 | 5 | 1.3% |
| Carleton College | 1,363 | 591 | 30 | 5.07% | 1,367 | 580 | 11 | 1.9% | 1,325 | 603 | 76 | 12.6% | 1,522 | 664 | 0 | 0% |
| Carnegie Mellon University | 8,986 | 4,652 | 43 | 0.92% | 8,792 | 5,319 | 35 | 0.7% | 6,819 | 3,461 | 288 | 8.3% | 5,761 | 3,579 | 140 | 3.9% |
| Case Western Reserve University | 11,620 | 6,056 | 436 | 7.19% | 11,494 | 4,992 | 364 | 7.3% | 9,760 | 4,921 | 1,076 | 21.9% | 10,375 | 5,661 | 209 | 3.7% |
| Claremont McKenna College | 850 | 538 | 11 | 2.04% | 897 | 589 | 9 | 1.5% | 776 | 486 | 75 | 15.4% | 578 | 328 | 43 | 13.1% |
| Colby College | | | | | | | | | | | | | 3,668 | 1,454 | 19 | 1.3% |
| Colgate University | | | | | | | | | 1,630 | 1,009 | 97 | 9.6% | 1,800 | 841 | 101 | 12% |
| College of William and Mary | 4,004 | 2,042 | 4 | 0.19% | 4,720 | 2,417 | 38 | 1.6% | 3,080 | 1,714 | 145 | 8.5% | 3,937 | 1,989 | 186 | 9.4% |
| Colorado College | 823 | 193 | 2 | 1.03% | 739 | 174 | 0 | 0% | 700 | 224 | 23 | 10.3% | 1,052 | 275 | 23 | 8.4% |
| Cornell University | 7,729 | 5,531 | 260 | 4.70% | 7,746 | 5,800 | 24 | 0.4% | 6,750 | 4,791 | 190 | 4% | 4,948 | 3,362 | 147 | 4.4% |
| Dartmouth College | 2,098 | 1,785 | 41 | 2.29% | 2,669 | 2,120 | 0 | 0% | 2,661 | 1,945 | 95 | 4.9% | 2,151 | 1,381 | 0 | 0% |
| Dickinson College | 974 | 313 | 18 | 6% | 603 | 199 | 4 | 2% | 602 | 253 | 13 | 5.1% | 762 | 233 | 25 | 10.7% |
| Duke University | | | | | | | | | | | 381 | | | | 334 | |
| Elon University | 2,915 | 778 | 220 | 28.20% | 2,230 | 594 | 66 | 11.1% | 1,890 | 429 | 48 | 11.2% | 948 | 202 | 13 | 6.4% |
| Emory University | 6,448 | 3,388 | 107 | 3.15% | 6,539 | 3,883 | 21 | 0.5% | 5,215 | 2,898 | 447 | 15.4% | 4,679 | 3,731 | 168 | 4.5% |
| Fordham University | | | | | | | | | | | | | 8,603 | 2,210 | 1,058 | 47.9% |
| George Washington University | | | | | | | | | 5,673 | 2,512 | 1,316 | 52.4% | 5,141 | 2,238 | 3 | 0.1% |
| Georgetown University | 2455 | 1804 | 40 | 2.21% | | | | | 2,215 | 1,733 | 336 | 19.4% | 2,420 | 1,541 | 86 | 5.6% |
| Georgia Institute of Technology | 7,122 | 4,903 | 41 | 0.83% | 6,613 | 4,916 | 275 | 5.6% | 6,214 | 4,235 | 853 | 20.1% | 3,800 | 2,623 | 632 | 24% |
| Gonzaga University | 1,829 | 773 | 495 | 64.00% | 1,060 | 487 | 142 | 29.2% | 859 | 384 | 287 | 74.7% | 807 | 184 | 53 | 28.8% |
| Grinnell College | 2699 | 1426 | 58 | 4.05% | | | | | | | | | 1,633 | 785 | 10 | 1.3% |
| Hamilton College | 3,054 | 1,586 | 0 | 0.00% | 2,964 | 1,782 | 0 | 0% | 1,875 | 1,060 | 17 | 1.6% | 1,934 | 1,062 | 21 | 2% |
| Harvey Mudd College | 612 | 419 | 17 | 4.05% | 648 | 433 | 0 | 0% | 630 | 457 | 55 | 12% | 500 | 341 | 9 | 2.6% |
| Haverford College | 1,742 | 1,067 | 7 | 0.65% | 1,593 | 955 | 6 | 0.6% | 1,331 | 741 | 21 | 2.8% | 1,546 | 924 | 15 | 1.6% |
| Indiana University - Bloomington | | | | | | | | | 640 | 150 | 80 | 53.3% | 1,945 | 417 | 6 | 1.4% |
| Johns Hopkins University | 3443 | 2358 | 0 | 0.00% | | | | | | | | | 2,108 | 1,421 | 0 | 0% |
| Kenyon College | 2,165 | 1,172 | 23 | 1.96% | 1,826 | 1,027 | 1 | 0.1% | 12 | 12 | 4 | 33.3% | 2,161 | 1,231 | 12 | 1% |
| Lafayette College | 2,456 | 981 | 17 | 1.73% | 1,836 | 763 | 32 | 4.2% | 1,881 | 862 | 79 | 9.2% | 2,190 | 874 | 56 | 6.4% |
| Lehigh University | 5,034 | 2,499 | 93 | 4% | 4,124 | 2,079 | 102 | 4.9% | 4,361 | 1,875 | 1,684 | 89.8% | 6,212 | 2,480 | 1,307 | 52.7% |
| Loyola Marymount University | 6,788 | unreported | 69 | | 5,114 | unreported | 172 | | 4,257 | unreported | 779 | | 3,596 | unreported | 17 | |
| Macalester College | 1,081 | 591 | 0 | 0.00% | 1,218 | 535 | 0 | 0% | 760 | 336 | 112 | 33.3% | 801 | 415 | 54 | 13% |
| Middlebury College | 2,259 | 2,215 | 12 | 0.54% | 1,742 | 1,716 | 2 | 0.1% | 1,338 | 534 | 104 | 19.5% | 1,576 | 584 | 111 | 19% |
| MIT | | | | | | | | | 617 | 559 | 0 | 0.0% | 460 | 331 | 17 | 5.1% |
| Mount Holyoke College | 1085 | 460 | 7 | 1.52 % | 530 | 276 | 2 | 0.7% | 515 | 294 | 52 | 17.7% | 769 | 438 | 57 | 13% |
| Northwestern University | | | | | | | | | unreported | unreported | 108 | | 3,067 | 2,107 | 55 | 2.6% |
| Oberlin | | | | | 1,491 | 1,368 | 100 | 7.3% | 1,541 | 1,369 | 149 | 10.9% | 1,076 | 793 | 89 | 11.2% |
| Pennsylvania State University | 3,796 | 2,384 | 419 | 17.60% | 2,481 | 1,519 | 1,451 | 95.5% | | | | | 4,651 | 2,911 | 1,169 | 40.2% |
| Pitzer College | 775 | 296 | 1 | 0.33% | | | | | 500 | 148 | 30 | 20.3% | 583 | 186 | 23 | 12.4% |
| Pomona College | 866 | 614 | 13 | 2.11% | 840 | 570 | 27 | 4.7% | 862 | 505 | 150 | 29.7% | 839 | 566 | 47 | 8.3% |
| Princeton University | 1,710 | 1,348 | 0 | 0.00% | 1,265 | 1,000 | 150 | 15% | 820 | 598 | 26 | 4.3% | 902 | 668 | 1 | 0.1% |
| Reed College | 5,317 | 1,675 | 76 | 4.53% | 3,285 | 1,066 | 1 | 0.1% | 1,264 | 421 | 48 | 11.4% | 1,577 | 523 | 51 | 9.8% |
| Rensselaer Polytechnic Institute (RPI) | 1728 | 1129 | 2 | 0.17% | | | | | 2,302 | 1,342 | 72 | 5.4% | 4,896 | 3,128 | 78 | 2.5% |
| Rhodes College | 1,187 | 682 | 9 | 1.31% | 1,380 | 687 | 1 | 0.1% | 757 | 363 | 34 | 9.4% | 1,237 | 332 | 74 | 22.3% |
| Rice University | | | | | | | | | 3,151 | 2,045 | 156 | 7.6% | 2,788 | 1,869 | 1 | 0.1% |
| Rochester Institute of Technology (RIT) | 2115 | 786 | 210 | 26.17% | 930 | 758 | 211 | 27.80% | | | | | | | | |
| Santa Clara University | 4,009 | 2,467 | 8 | 0.32% | 4,849 | 2,951 | 138 | 4.7% | 2,749 | 1,747 | 410 | 23.5% | 2,162 | 1,122 | 221 | 19.7% |
| Sarah Lawrence College | | | | | | | | | 901 | 433 | 127 | 29.3% | 1,088 | 500 | 31 | 6.2% |
| Scripps College | 722 | 358 | 2 | 0.55% | 701 | 320 | 1 | 0.3% | 570 | 265 | 30 | 11.3% | 711 | 352 | 25 | 7.1% |
| Smith College | 2,254 | 1,132 | 37 | 3.26% | 1,717 | 891 | 0 | 0% | 1,155 | 684 | 67 | 9.8% | 1,027 | 587 | 76 | 12.9% |
| Southern Methodist University (SMU) | unreported | unreported | unreported | | 1,787 | 821 | 236 | 28.7% | 2,043 | 765 | 340 | 44.4% | 2,407 | 1,078 | 45 | 4.2% |
| Stanford University | 553 | 457 | 8 | 1.75% | 652 | 535 | 61 | 11.4% | 850 | 707 | 259 | 36.6% | 750 | 580 | 8 | 1.4% |
| Swarthmore College | unreported | unreported | 0 | 0.00% | unreported | unreported | 0 | 0% | unreported | unreported | 33 | | uneported | unreported | 27 | |
| Syracuse University | 12638 | 4073 | 321 | 7.88% | | | | | | | | | 8,859 | 3,158 | 611 | 19.3% |
| Texas Christian University (TCU) | 1,733 | 529 | 2 | 0.37% | 1,745 | 733 | 78 | 10.6% | 1,248 | 688 | 530 | 77% | 1,690 | 779 | 341 | 43.8% |
| Tufts University | 2,664 | 1,328 | 183 | 13.78% | 2,579 | 1,264 | 0 | 0% | 2,136 | 1,017 | 222 | 21.8% | 1,441 | 524 | 84 | 16% |
| Tulane University | 6,232 | 2,271 | 3 | 0.13% | 5,072 | 1,871 | 0 | 0% | 12,813 | 4,486 | 0 | 0% | 5,412 | 1,371 | 0 | 0% |
| UC Berkeley | 8,456 | 4,655 | 44 | 0.94% | 11,725 | 6,871 | 359 | 5.2% | 8,753 | 5,043 | 1,651 | 32.7% | 7,531 | 3,975 | 1,098 | 27.6% |
| UC Irvine | unreported | unreported | unreported | | 8,765 | 1,288 | 189 | 14.7% | 18,621 | 11,081 | 2,664 | 24% | 17,018 | 8,608 | 1,610 | 18.7% |
| UCLA | 16,979 | 11,169 | 367 | 3.28% | 15,242 | 9,897 | 214 | 2.2% | 14,470 | 9,254 | 1,779 | 19.2% | | | | |
| UCSB | 8,863 | 5,866 | 603 | 10.27% | 14,076 | 9,762 | 2,093 | 21.4% | 9,885 | 6,342 | 6,103 | 96.2% | 8,863 | 5,866 | 603 | 10.3% |
| UCSD | | | | | 25,419 | 8,835 | 0 | 0% | 19,714 | 14,265 | 5,282 | 37% | 19,976 | 12,426 | 4,313 | 34.7% |
| University of Connecticut (UConn) | | | | | | | | | 2,808 | 1,117 | 203 | 18.2% | 1,937 | 886 | 830 | 93.7% |
| University of Delaware | | | | | | | | | 3,207 | 581 | 341 | 58.7% | 1,276 | 420 | 314 | 74.8% |
| University of Illinois at Urbana-Champaign | 6423 | 4080 | 166 | 4.06% | | | | | 1,935 | 1,204 | 468 | 38.9% | 3,036 | 1,791 | 0 | 0% |
| University of Massachussetts-Amherst | 8,531 | 3,681 | 74 | 2.01% | 4,056 | 2,361 | 1,055 | 44.7% | 4,381 | 2,326 | 396 | 17% | 2,188 | 1,013 | 0 | 0% |
| University of Miami | 20,206 | 8,545 | 115 | 1.34% | 13,095 | 4,643 | 13 | 0.3% | 11,444 | 3,664 | 781 | 21.3% | 8,795 | 2,143 | 366 | 17.1% |
| University of Michigan | 21,078 | 15,076 | 77 | 0.51% | 17,805 | 13,063 | 68 | 0.5% | 20,723 | 9,856 | 1,248 | 12.7% | 12,527 | 4,922 | 89 | 1.8% |
| University of North Carolina-Chapel Hill | 5,572 | 3,717 | 156 | 4.19% | 8,957 | 6,564 | 167 | 2.5% | 6,620 | 3,887 | 647 | 16.6% | 5,572 | 3,717 | 156 | 4.2% |
| University of Notre Dame | unreported | unreported | unreported | | 0 | 0 | 0 | 0% | 1,778 | 1,253 | 530 | 42.3% | 1,600 | 1,028 | 108 | 10.5% |
| University of Pennsylvania | 2932 | 2051 | 101 | 4.92% | | | | | 3,205 | 2,350 | 391 | 16.6% | 2,932 | 2,051 | 101 | 4.9% |
| University of Richmond | 3,903 | 654 | 0 | 0.00% | 3,891 | 886 | 9 | 10.5% | 3,406 | 1,717 | 113 | 6.6% | 4,027 | 1,249 | 81 | 6.5% |
| University of Rochester | 2229 | 2086 | 29 | 1.39% | | | | | 3,587 | 2,111 | 382 | 18.1% | 3,605 | 2,339 | 71 | 3% |
| University of San Francisco | 1,863 | 711 | 68 | 9.56% | 1,741 | 1,062 | 126 | 11.9% | | | | | 1,704 | 871 | 755 | 86.7% |
| University of Vermont | 7,348 | 2,833 | 3 | 0.10% | 6,190 | 3,030 | 198 | 6.5% | 2,927 | 1,246 | 134 | 10.8% | 3,802 | 1,679 | 7 | 0.4% |
| University of Virginia | 5,486 | 2,969 | 8 | 0.26% | 8,690 | 4,924 | 86 | 1.7% | 6,465 | 3,780 | 165 | 4.4% | 5,486 | 2,969 | 8 | 0.3% |
| University of Washington | 9,450 | 5,453 | 127 | 2.32% | 10,239 | 4,565 | 775 | 17.0% | 9,726 | 4,712 | 1,870 | 39.7% | 7,775 | 3,040 | 2,394 | 78.8% |
| University of Wisconsin, Madison | 6,449 | 4,006 | 11 | 0% | 8,128 | 4,335 | 14 | 0.3% | 8,913 | 5,085 | 2,861 | 56.3% | | | | |
| Vassar College | 1,136 | 638 | 32 | 5.01% | 1,526 | 634 | 96 | 15.1% | 867 | 431 | 60 | 13.9% | 1,139 | 570 | 29 | 5.1% |
| Villanova University | 3355 | 1795 | 36 | 2.00% | | | | | 6,555 | 2,563 | 210 | 8.2% | 5,553 | 2,586 | 104 | 4% |
| Virginia Institute of Technology (Virginia Tech) | 1,311 | 7,587 | 2,458 | 32% | 14,952 | 9,176 | 3,292 | 35.9% | 10,800 | 6,990 | 3,959 | 56.6% | | | | |
| Washington and Lee University | 1,816 | 1,029 | 11 | 1.06% | 2,207 | 1,150 | 11 | 1% | 1,391 | 743 | 39 | 5.2% | 1,805 | 856 | 31 | 3.6% |
| Washington University in St. Louis | unreported | 1968 | 189 | 9.60% | | | | | unreported | 2,696 | 915 | 33.9% | unreported | 1,968 | 189 | 9.6% |
| Wellesley College | 2578 | 1304 | 44 | 3.37% | 0 | 0 | 0 | 0% | 2,252 | 926 | 52 | 5.6% | 2,061 | 1,221 | 99 | 8.1% |
| Wesleyan University | 2,754 | 1,557 | 81 | 5.20% | 3,585 | 2,031 | 10 | 0.5% | 2,302 | 1,370 | 133 | 9.7% | 1,945 | 1,076 | 94 | 8.7% |
| Williams College | 2,241 | 860 | 0 | 0.00% | 2,371 | 929 | 1 | 0.1% | 1,944 | 846 | 73 | 8.6% | 1,857 | 651 | 25 | 3.8% |
| Worcester Polytechnic Institute | | | | | 2,413 | 978 | 0 | 0% | 2,450 | 1,063 | 489 | 46% | 2,559 | 1,157 | 450 | 38.9% |
| Yale University | 1,000 | 780 | 9 | 1.15% | 1,030 | 774 | 4 | 0.5% | | | | | | | | |