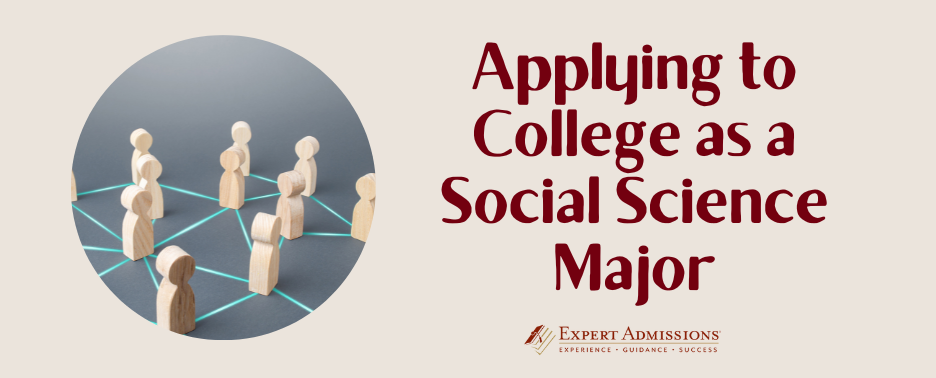 Studying the social sciences helps students understand how to analyze not only their own behavior but also the behavior and motivations of the society around them. However, the social sciences are a broad category—and you may not be sure if the major you're interested in falls within this umbrella. The social sciences include the following fields:
Psychology
Economics
Sociology
History
Linguistics
Anthropology
Archaeology
Political Science
International Relations
Geography
If you're planning to major in any of the above and aren't sure how to distinguish yourself from your peers, below is a list of ways you can stand out as a prospective social science major while you're in high school.
Challenge yourself academically
Students in the social sciences are expected to have strong analytical, critical thinking, and research skills. One of the most effective ways to cultivate skills in research and analysis is to take classes in your field of interest. Colleges appreciate knowing that applicants have taken the initiative to challenge themselves academically, opted for rigorous courses, and done well in them. If your school offers AP classes, take classes like AP Psychology, AP Macroeconomics, AP US or World History. IB students can look into higher-level courses in Economics, History, Psychology, and more. Many high schools also offer electives in the social sciences—take these to demonstrate your interest in the subject you hope to major in. Succeeding in these courses can be a great way to connect with humanities faculty who can write you letters of recommendation down the road.
Engage in a research project
If you're interested in the social sciences, you have a world of information to work with—literally. For instance, if you're an aspiring history major and there is a particular time period or region whose history really interests you, why not conduct a research project looking up certain niche topics within that area or region? Or if you're interested in economics and political science, you could research how the economy of the country has been affected by certain political climates. Once you've finished your research, you can write a paper and seek out a journal where you can possibly even get published.
Complete a creative project 
Other than an eye for the social sciences, you might also be keen on filmmaking, visual art, or creative writing. If you've conducted research in your social science of choice, you don't just have to go the academic route and write a paper, you can take a creative approach as well. If you're interested in filmmaking, make a short documentary—an excellent way to combine both interests. Or, if you're more of an artist, you can create a graphic novel, for example, that outlines your discovery and results.
Do a case study
Students interested in subjects such as economics, psychology, and sociology can find daily applications of their field all around them. It can be fairly easy to conduct a study in the topic within your field. For example, you could carry out a study and gather data from students from your class or neighborhood. Or, you could explore certain aspects of the economy of your area and present the results at a conference.
Undertake an oral history project
One way to build your application profile in the social sciences is to create an oral history project. Conduct interviews around a certain topic—it doesn't even have to be history related! Talk to local elders, historians, and employees at historical centers or museums to find out more on the specific topic. Not only is this an initiative that helps you learn about your topic, but it can be a way to get involved with your community.. The final project could be a documentary, a podcast, or even a multimedia exhibit at a local venue.
Jobs in the social sciences 
You may even find opportunities for part-time employment in the social sciences in high school. As an aspiring historian or archaeologist, you could check if your local museum hires high school students—or you could work in the archives section of your local library. If you're interested in politics, look into local government offices for internships. You can also inquire with colleges and universities to see if any social science professors at schools near you are seeking assistants or interns. Colleges appreciate students who have worked while still in high school, as it shows maturity and responsibility—combining this with your academic interest is a great way to stand out in your application.
As you continue building your profile, make sure you conduct school research as well. Applying to colleges that are known for strong programs in the social sciences can help provide you with resources needed to thrive. And continue working hard—carefully decide specific topics you wish to focus on, and pursue extracurriculars and academic subjects surrounding those specific niches.