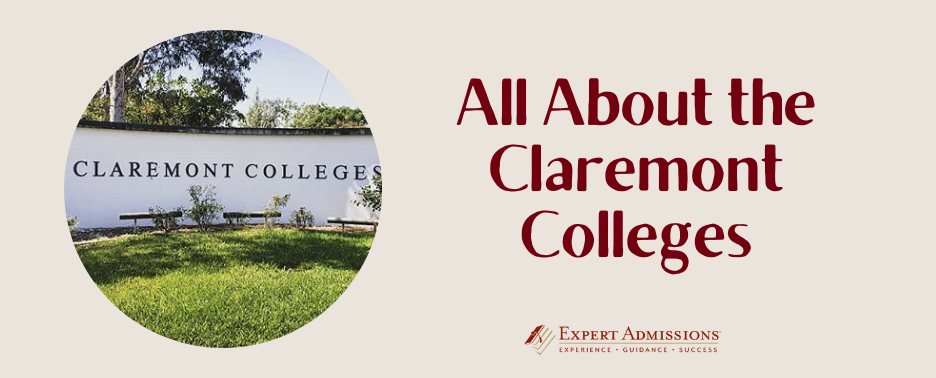 The Claremont Colleges, located to the east of Los Angeles at the foot of California's San Gabriel mountains, is a group of seven undergraduate and graduate schools that form a consortium. The colleges are known collectively as the 7Cs. The undergraduate schools, known as the 5C, include Pomona College, Scripps College, Claremont McKenna College, Harvey Mudd College and Pitzer College. The schools are adjacent to each other and share central campus safety services, health services, and a library–while each maintaining their own individual identity.
Founded in 1925 by Pomona College president James A. Blaisdell, the consortium is modeled after Oxford University, combining the specialization of small colleges with the powerful resources of a large research university. The schools in the 5Cs are among the most selective in the country, and provide excellent academic opportunities for students. Here, we guide you through what distinguishes the Claremont Colleges from one another, and how the undergraduate schools in the consortium work together.
Academics
As with other consortia, when a student is accepted to and enrolls in one of the 5Cs, they become a member of the consortium community and are able to cross-register in other schools' classes for full course credit. Unlike other consortium colleges, however, the Claremont colleges share a number of intercollegiate academic departments. These include the departments of Media Studies, Religious Studies, Africana Studies, Asian American Studies, Chicano Studies, and Women's Studies; students from any of the five schools may study in these departments, and this feature contributes largely to the interconnected culture of the colleges. Each college is defined by its own academic focus, structure and traditions.
Pomona College, the oldest of the schools in the consortium, offers a liberal arts education in the arts and humanities, social sciences, natural sciences, and interdisciplinary studies. The school features 48 majors–many of which have a corresponding minor–and many students graduate with a double major. In addition to the cross-curricular opportunities available through the consortium, engineering students at Pomona College students may participate in 3-2 dual degree programs with Washington University, CalTech and Dartmouth colleges.
Harvey Mudd College has a science and engineering focus, with students choosing from ten majors ranging from engineering to computer science to physics and chemistry. All HMC students also take required Common Core courses in writing, the arts and the social sciences. In recent years, the school has gained a reputation for supporting women in STEM fields. In addition to the ten majors available at HMC, students may also opt to create their own Individual Program of Study (IPS), or even complete an off-campus major at another 5C school, provided they complete a minor in one of HMC's programs.
Scripps College is the only women's college in the consortium. On the school's famously gorgeous campus, students focus on the interdisciplinary humanities, with popular majors that include political science and government, English, the performing arts, economics and psychology. The Core Curriculum in Interdisciplinary Studies is a unique feature of a Scripps education: in this required program, first and second-year students participate in seminars that are team-taught by two professors from different departments, making for distinctive and engaging intellectual intersections.
Claremont McKenna College, originally founded as a men's college (but coed since 1981), is the 5C college most focused on political science. Most classes at CMC have fewer than 20 students, and many of them study subjects like international relations, economics, history and government. For the science-minded, CMC boasts the Bernard Biological Field, an 85-acre research facility located just north of the CMC campus where students can complete field work.
Pitzer College, with its focus on the social sciences, is the most pedagogically experimental of the 5Cs colleges. Pitzer students choose between 41 majors and 22 minors in cross-disciplinary fields like Research and Experimental Psychology, Organizational Behavioral Studies and Environmental Studies. The college encourages students to take an active role in creating their own course of study and holds few distribution requirements. Studies in social justice and sustainability are also big at Pitzer–students can study language and international studies alongside ecology, for example, at the Firestone Center for Restoration Ecology in Costa Rica.
Campus and student life
With their close physical proximity to one another, campus life among the 5Cs schools is more integrated than most college consortia. There are over 300 student clubs and organizations across the 5Cs, with some of them being open to students from all schools and some being school-specific. The Student Life, the college newspaper of the Claremont Colleges, publishes both print and online editions and has the distinction of being the oldest college newspaper in Southern California. Other cross-college student organizations include On The Loose, an outing club that sponsors events like an annual hike to the top of Mt. Baldy.
Most students at Pomona College–98%–live on campus all four years. It's the only college in the 5Cs with Greek life, and is home to three fraternities, two of which are co-ed. Outdoorsy Pomona students enjoy the schools' Outdoor Education Center, while sports fans can often be found cheering at one of Pomona's many intramural sports matches–inner-tube water polo, anyone?
Campus life is equally vibrant at Harvey Mudd College, where 99% of students live in the dorms and enjoy the many HMC-specific campus traditions. These range from riding unicycles around campus to hosting an annual Wild West Party which features a mechanical bull. Athletes from HMC compete as part of the Claremont-Mudd-Scripps Stags (men) and Athenas (women), an intercollegiate sports program that's part of NCAA's Division III.
Students at Scripps College enjoy life in some of the most beautiful dorm facilities in the country, and match the school's splendor with a supportive atmosphere. The Scripps Communities of Resources and Empowerment, or SCORE, provides funding and support for student organizations focused on social justice. Scripps is also home to the Ruth Chandler Williamson Gallery, which houses Scripps' permanent art collection–14,000 objects representing 3,000 years of art history.
The most culturally and politically conservative school within the 5Cs, Claremont McKenna College is home to the CMC Forum, a student-run newspaper–and lots of lively discussions about current events. The Marian Miner Cook Athenaeum at CMC hosts over a hundred dinner and lecture events annually, where students gather and discuss a range of ideological perspectives.
Compared to the rest of the 5Cs, a smaller percentage of Pitzer College students live on campus–only 75%. Campus life is low-key and features environmentally friendly dorms, dining options, an organic community garden, chicken coops, and the world-renowned John Rodman Arboretum. Students gather together for Kohoutek, an annual alternative music festival; for the sports fans, Pitzer teams up with Pomona to form the Sagehens, which compete in a number of SCIAC events.
As the home to 8,500 students and 3,200 faculty and staff members, the Claremont Colleges make for a singular, diverse–not to mention highly selective–academic community. The consortium stands out as a place where students can access a wide range of resources while being part of a close-knit intellectual milieu of their own.