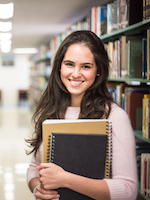 A Pharm.D. Applicant Gains Admission after Two False Starts
Before working with Expert Admissions, Justin applied to a wide range of Doctor of Pharmacy (Pharm.D.) programs twice before – but wasn't able to gain admission anywhere. Keep reading
Early Decision in the Ivy League
Ann came to Expert Admissions somewhat late in the process – at the beginning of twelfth grade – after working with another independent counselor for two years. The family felt that they needed more help and guidance than they were receiving, and Ann had her heart set on the University of Pennsylvania. Ann was a strong student at a highly competitive high school, but she was a bit overwhelmed by the application process. With admission so competitive at top colleges, she wanted to make sure she gave it her very best shot.
In a relatively short time, Dr. Norman worked with Ann to refine her list (several of the schools on her original list didn't really fit her personality), complete her Common Application, and rework her application essays. Ann sent Dr. Norman the multiple essays she had attempted with her other counselor and Dr. Norman picked the one that Ann thought she would be least likely to pick – the essay that her other counselor vetoed because she felt it made Ann look "privileged." Dr. Norman disagreed and thought the very specific travel experience Ann wrote about showed her adventurous side and her humorous side, not to mention the way that Ann thought about even simple things in fairly complex, mathematical terms. Ann went with the essay that spoke to Dr. Norman and they worked on several revisions to get the essay in its final form. Penn's supplemental essays also needed to be completed, so they brainstormed and worked on those as well, moving away from the more generic approach Ann was using previously, and making them uniquely Ann.
Ann submitted her Early Decision application to Penn a week before the due date, and also completed the additional 12 applications for the other schools on her list. All applications, including those for Regular Decision, were completed before Ann heard back from Penn (who wants to be working on applications after potentially receiving bad news?). Thankfully, Ann was accepted Early Decision to Penn, and she couldn't be happier.
"Reach School" Comes Through
Brielle started working with Expert Admissions when she was in tenth grade. They first gave Brielle an overview of the admissions process so that she would understand the goal that she and her counselor would be working toward over the next few years. To start, they helped Brielle pick the best courses for the following year, focus her extracurricular activities, select an SAT tutor, and get things in order so that junior and senior year went as smoothly as possible. Brielle didn't know exactly what she was interested in, but involvement with the school yearbook led to a journalism internship, which then led to a part-time editorial job.  Her counselor also worked with Brielle on applications to a summer journalism program, to which Brielle was accepted. The summer experience proved extremely helpful: Brielle realized she loved newspaper, not yearbook, and she realized that the university she did the program at (which was at the top of Brielle's college list at the time) wasn't for her.
During junior year, her counselor worked with Brielle to further refine her college list. Expert Admissions helped Brielle decide which schools to visit and how to stay on track academically; they also got a head start on application work. Though Brielle's tutoring yielded improvement from her PSAT scores, she still was unable to break 1100 on the Critical Reading and Math sections of the SAT; her courses and grades were solid, but she wasn't a top student at her competitive high school. Expert Admissions worked with Brielle to help her stand out amongst the many students vying for admission.
While finalizing her list of schools, Brielle decided that a strong journalism/communications program was important to her and she set her sights on Syracuse University's highly selective Newhouse School as her reach. Brielle was admitted to Syracuse's Newhouse School, as well as to American University, College of Charleston, Emerson, Ithaca College, Oxford College of Emory University, and University of Tampa. She chose Syracuse, and has found it to be a great fit in every respect.
A Transfer Student Gets Her First-Choice School the Second Time Around
When Madison graduated high school, she had a modest transcript and modest test scores, not to mention a burning desire to go to a medium-sized school in a city. Madison wanted a sophisticated, urban environment, and the University of Miami in Coral Gables, FL was her first choice. With a 1080 on the Critical Reading and Math sections of the SAT, UM was a big reach (she did give it a try, but wasn't admitted as a freshman). Instead, she headed to New York City, where she enrolled at Marymount Manhattan College.
Expert Admissions did not work with Madison while she was in high school, but when she came to us at the beginning of her sophomore year of college with the hope of transferring to her dream school, we wanted to make sure she had the best chances of getting in. Expert Admissions helped Madison select her fall sophomore courses, and provided guidance on some extracurricular involvements. Because Madison did not want to return to Marymount Manhattan, she needed additional schools – besides University of Miami. After reviewing several options and paying particular attention to the business/marketing offerings with her counselor, Madison added some other schools to her list, with UM still reigning as her top choice.
Expert Admissions and Madison worked to craft a personal statement that clearly explained what wasn't working at Marymount Manhattan and what she was seeking at her new school. Together with her counselor they worked on a separate statement that explained a few of Madison's grades (her cumulative GPA was just barely a 3.0) and the absence of certain classes on her college transcript.
With a little confidence and a lot of hard work, Madison was admitted to the University of Miami as a transfer student for the spring. Ecstatic, she sent in her enrollment forms before hearing from the other schools.
An International Student's Long Journey to University Success
Henry attended the Hong Kong International School for secondary school and arrived in the US for his undergraduate studies at Kenyon College in Gambier, Ohio. While Kenyon offered excellent academics, its rural location was exactly the opposite of what Henry wanted. Unfortunately, the counselor Henry worked with back in Hong Kong wasn't very knowledgeable about the different US colleges and universities, and most of Henry's schools on his list didn't fit what he was looking for: a medium- to large-sized school in or near a city (but preferably in a city). Also, music was Henry's main passion, and it was imperative that the city where he attended university had a vibrant music scene, both so he could listen to bands and build his career in the music industry.
When Henry contacted Expert Admissions, he had returned home to Hong Kong from Kenyon; he went home at Thanksgiving, and because it was such a mismatch, decided not to return to Kenyon. It was too late to officially withdraw from his classes, so his transcript was going to be filled with F's. Henry didn't seek academic counseling while at Kenyon regarding this choice, and did not realize that his transcript would be adversely impacted.
Dr. Norman was able to counsel Henry to petition for his F's to change to W's (for withdrawal) and she also advised him on an academic plan for the spring semester while he was back in Hong Kong; it would also be during this time that he would re-apply to US universities. After Dr. Norman was able to help Henry sort out his academic issues, they then turned their attention to building an appropriate list of universities and working on applications. Though they only had a little over two weeks (Henry wanted to apply for the fall, and deadlines were fast-approaching), Dr. Norman was sure they could get things done.
Dr. Norman spoke with Henry extensively about the different universities he was considering and shared her own impressions from her visits (as well as the photos she took while on campus). They developed and finalized Henry's main essay and supplemental essays and also completed all his application in time for the January deadlines. Henry was admitted to Boston University, Fordham University, University of Washington, Seattle University, University of British Columbia, Miami University, and Colorado College. Though UW was his first choice going in, he decided instead on Seattle University, which he felt would offer the perfect-sized student body, excellent access to resources through its business school, and a rockin' music scene.